www.keralaradio.in
Tourism
>
India
>
Kerala
>
Districts
>
Kollam
> Achankovil
Achankovil
Situated about 80 km from Punalur is an important pilgrim center. The Sastha temple here, situated amidst dense forest. The idol of Sastha (Lord Ayyappa) is supposed to have been installed several centuries before the Christian Era. The two important festivals of this temple are Mandala Pooja (December-January) and the festival held at 'Revathi'(January-February). The two notable features of the festival are the Therotam (chariot festival) and Pushpabhishekam (offering of flowers). In no other temple of the South India are flowers offered to the deity so lavishly as at Achencoil. Konni is a major town nearby.
Kubhavurutty Waterfalls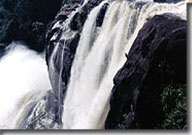 Kubhavurutty waterfalls is one of the main attractions of Achankovil, a pilgrim center in Kollam District. This natural waterfall gives a breathtaking atmosphere with sounds of the rushing waters and the beauty of the nature. Achankovil is situated 80 km north-east of Punalur.
To reach the waterfalls, trekking enthusiast can take an adventurous tour through the thick black forests from Manalar, 7 km away from Achankovil-Sengottai road. On the way one can spot different species of birds and animals.