www.keralaradio.in
Tourism
>
India
>
Kerala
> Wildlife in Kerala
Thiruvananthapuram District
Neyyar Wildlife
The Neyyar reservoir is easily navigable and extends 9.06 sq km. The vegetation varies from tropical wet evergreen to grasslands. Agasthyakoodam of 1890 m elevation is in this sanctuary. A crocodile rearing centre, deer farm and lion safari park are the main attractions. The vegetation varies from tropical wet evergreen to grasslands.
Wildlife : Elephants, gaur, sloth bear, Nilgiri tahr, jungle cat, wild boar, nilgiri langur.
How to Reach
Nearest Airport/Railhead : Thiruvananthapuram (32 km).
Peppara Wildlife
Lying on the outskirts of the capital city, the Peppara Wildlife Sanctuary is spread over an area of 53 sq km on the Western Ghats and was established in 1938. The place is fascinating for its dam site, thick forest areas, eucalyptus plantations, crystal clear streams and rocky terrains ideal for adventure expeditions.
Wildlife : Elephant, gaur, sambar, barking deer, wild boar, tiger, panther, wild gog, malabar squirrel, lion-tailed macaque, mouse deer, nilgiri langur, king cobra, python, darter, little cormorant, pied kingfisher and egret.
How to Reach
Nearest railway station/airport : Thiruvananthapuram, about 50 km from the sanctuary.
Kollam District
Shenduruny Wildlife
Shendurni Wildlife Sanctuary located 70 km from Kollam, on the Kollam-Shencotta Road, is a green valley of splendid forests, situated on the banks of the Shendurny River. Steep and rugged peaks surround the sanctuary, which is dotted by several breathtaking ravines. On the northern side of the sanctuary is Palaruvi, a beautiful picnic spot. In the tropical evergreen and mixed deciduous forests here are found a variety of animals.
Wildlife : Elephants, gaurs, barking deer, cobra, viper, python and the Indian porcupine.
How to Reach
Nearest Airport : Thiruvananthapuram (72 km).
Nearest Railhead : Thenmala, connected with Chennai.
Thrissur District
Peechi-Vazhani Wildlife
Established in 1958, this 125 sq km sanctuary is about 20 km east of Thrissur, in the catchment area of the Peechi and Vazhani dams. The sanctuary is part of the Palapilli - Nelliampathy forests and forms the northern boundary of the Chimmini Sanctuary. Having an abundance of enchanting flora and fauna and a lake where you can go boating, this place is a treat for the nature lover. There are more than 50 different kinds of orchids, innumerable rare medicinal plants, teak, rosewood, and so on.
Wildlife : Leopard, tiger, fox, elk, deer, barking deer, spotted deer, bison, elephant etc. More than 60 types of birds and 10 types of snakes are also found.
How to Reach
By road: There are direct buses from Thrissur to Peechi.
Nearest railway station: Thrissur.
Nearest airport: Kochi, 98 km away.
Thrissur Zoo
Zoo is 2 km from Thrissur town and is a wonderful place for animal enthusiasts. Within the 13.5 acres of compound, a variety of fauna like the lion tailed macaque, Sloth bear, various species of birds, deer etc. The snake park has a reptilian collection of King Cobra, Kraits, Vipers and rat snakes.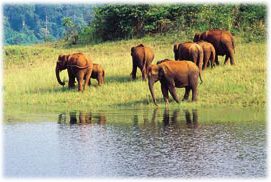 Idukki District
Idukki Wildlife Sanctuary
A land-locked district, Idukki is one of the most nature rich areas of Kerala. The Idukki Wildlife Sanctuary here spreads over an area of 77 sq km in the Thodupuzha and Udumpanchola taluks of the district. Situated at an altitude of 450-748 m above sea level, this sanctuary occupies the forest land between the Cheruthoni river and the Periyar river. There is a scenic lake around the sanctuary, covered by an enchanting canopy of tropical ever-green and deciduous trees, and offers boat rides. The Idukki wildlife park in Kerala, came into existence in the year 1976.
The terrain at the Idukki wildlife sanctuary is characterized by steep mountains, valleys and hills. The artifical lake that is the Kizhakkilachimala Lake adds to the scenic beauty of this lovely wildlife sanctuary. The vegetation at this wildlife park consists of dense forests that include tropical evergreen forests, tropical semi-evergreen forests, meadows and leaf shedding forests. Some of the commonly sighted trees in the region include white pine, kuntherekkapine, vayana, bhadraksham, pali, cheeni, rosewood and meadows of rolling grass.
Wildlife Population : Elephants, bison, sambhar, deer, bear, wild dogs, jungle cats, tiger, wild boar etc reptiles such as cobra, viper, krait and a large number of non-poisonous snakes can be seen. Jungle fowl, myna, laughing thrush, black bulbul, peafowl, woodpecker, kingfisher etc also inhabit the place in large numbers.
How To Reach
The sanctuary is 40 km from Thodupuzha in Idukki district near the Idukki Arch Dam.
Rail : Kottayam about 114 km
Air: Madurai in neighbouring Tamil Nadu, about 140 km away; Kochi international airport, about 190 km away.
Best Season
December to April
Periyar Wildlife, Thekkady
The pride of Kerala and a testimony to nature's splendour, the Periyar Wildlife Sanctuary is situated on the banks of the Periyar lake (55 sq km) - an artificial lake, at Thekkady in Idukki district. The early morning boat cruises on the Lake, one can spot more animals.
The 777 sq km sanctuary was declared as a Project Tiger Reserve in the year 1978. The sanctuary has been built around the Periyar Lake that came into existence in the year 1895 as a result of the construction of a dam on the River Periyar.
In addition to elephant rides, cruises on the lake and treks to the ruined Mangaladevi temple - a beautiful old stone temple situated in the heart of the Thekkady forest, this sanctuary offers the unique opportunity to watch and photograph wild elephants at close quarters. Lake Palace and Aranya Nivas are two idyllic accommodation options set in the sylvan lake side background. The romantic Lake Palace, formerly a summer retreat of the Maharaja of Travancore, is built on a small island accessible only by boat.
Wildlife Population: Indian elephant, tiger, Bonnet macaque, Liontail Macaques, golden jackal, sloth bear, small Indian civet, common palm civet, ruddy mongoose, jungle cat, Wild dogs, leopard, wild boar, sambar, barking deer, Indian pangolin, Indian porcupine, Bengal fox, monitor lizards, otter, rusty-spotted cat, gaur, leopard cat, Indian muntjac, Nilgiri Langurs, Nilgiri tahr.

Reptiles such as King Cobra and the python are also present. The birds include Giant Hornbill, Darter, Cormorant, Racket-tailed Drongo, white-bellied tree pie, flycatchers and laughing thrushes.
How To Reach
Nearest railway station: Kottayam, about 114 km.
Nearest airports: Madurai (Tamilnadu) about 140 km; Kochi International Airport, about 190 km.
Best Season
November to April
Chinnar Wildlife, Munnar
A unique thorny scrub forest with xerophyte species, Chinnar is the habitat for the endangered Giant Grizzled Squirrel of India. The last world count of these squirrels was less than 200. Located in the rain shadow area of the Western Ghats, unlike other sanctuaries in Kerala, Chinnar gets only 48 days of rain every year. Rich in wildlife, the mixed deciduous forests here are ideal for trekking.
Wildlife Population: Elephant, Gaur, Spotted Deer, Panther, Sambar, Giant Grizzled Squirrel, Hanuman Langur, Rabbit etc.
How To Reach
Located 60 km from Munnar in Idukki district.
Nearest railway station : Ernakulam, about 130 km from Munnar.
Nearest airport : Kochi International Airport, about 150 km from Munnar.
Eravikulam National Park, Munnar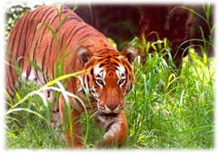 Eravikulam Wildlife Sanctuary came into being in 1975 to protect the Nilgiri Tahr, and was declared as a National Park in 1978. Now the park has the largest known population of Tahrs existing in the world. The park is breathtakingly beautiful and comparable to the Alpine Ranges. This land of the Neelakurinji is 7 km from the Rajamalai Hills. Located at a distance of 15 km North of Munnar. Forest Types : Rolling Grasslands and on a Higher Level, Shola Forest.
Wildlife Population: Nilgiri Tahr, Tigers, Panther, Wild Dog, Civet Cats, Sloth Bear, Nilgiri Langur, Wild Boar, Sambhar, Gaur and the Lion-tailed Macaque.
How To Reach
Nearest Airport : Cochin (155 km). Munnar is 120 km from the nearest Railhead, Kochi. Kochi is well connected with Munnar by road.
Wayanad District
Muthanga Wildlife
An ideal destination to watch herds of wild elephants, the Muthanga Wildlife Sanctuary is contiguous with the protected area network of the Nagarhole National Park and the Bandipur Tiger Reserve in the neighbouring State of Karnataka and Mudumalai of Tamilnadu. This sanctuary spread over 345 sq km is rich with fauna and flora, and comes under Project Elephant.
Elephants roam freely here and tigers are sighted frequently. Various species of deer, monkeys, birds etc also live here. The trees and plants in the sanctuary are typical of the south Indian moist deciduous forests and west coast semi evergreen forests. A drive along the road to Muthanga and further, offers chances to watch these roaming beasts. Elephant rides are arranged by the Forest Department.
How To Reach
It is about 18 km east of Sulthan Bathery on Mysore road (NH 212). Nearest railway station : Kozhikode, about 97 km by road from Sulthan Bathery.
Nearest airport : Karipur International Airport, Kozhikode, nearly 120 km from Sulthan Bathery.
Jeep safaris from 6 to 8 am and 3 to 5 pm daily.
Begur Wildlife
Location : About 20 km east of Mananthavady, Wayanad district, north Kerala.
The district of Wayanad lies on an elevated picturesque mountainous plateau in the Western Ghats. Historians are of the opinion that organised human life existed in these parts of Kerala at least ten centuries before Christ.
In this virgin land, which has not seen much human habitation later, is the Begur Wildlife Sanctuary. The forests here are amongst the most beautiful locales of Kerala. The region has a wealth of diverse species of plants and animals and is of great interest to nature lovers.
How To Reach
Nearest railway station : Thalassery in Kannur district is about 80 km from Mananthavady.
Nearest airport : Karipur International Airport, Kozhikode about 106 km.
Nagarhole National Park, Karnataka
Famous for elephants. Accessibility of this sanctuary is 40 km from Mananthavady in Wayanad. There are no bus services to Nagarhole from Mananthavady, only jeeps and trucks are available. There is a PWD Rest House, Forest Rest House and Forest Inspection Bungalow at Mananthavady. The reservation authorities are the District Collector, Wayanad and the DFO, Mananthavady. There are also mid range hotels and an Indian Coffee House here. From Kannur, Tellicherry and Kozhikode there are frequent buses to Mananthavady.
Palakkad District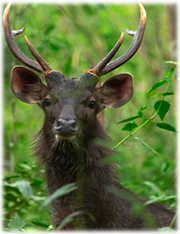 Parambikulam Wildlife
Wildlife Population: Sambar, spotted deer, jungle cat, lion-tailed macaque, common otter, sloth bear etc are the other inhabitants. There are also a few tigers and leopards.
Parambikkulam is an oasis of tranquil greenery nestled in a valley between the Anamalai ranges of Tamilnadu and the Nelliyampathy ranges of Kerala. The Parambikkulam Wildlife Sanctuary here spreads over an area of 285 sq km on the Western Ghats.
How To Reach
Parambikkulam is accessible by a road from Pollachi in Tamilnadu. Palakkad-Pollachi is about 45 km by road and Pollachi-Parambikkulam is about 65 km by road.
Nearest railway station: Pollachi.
Nearest airport: Coimbatore in Tamilnadu state, about 55 km from Palakkad.
Silent Valley national Park
40 km north east of Mannarkad, spread over 90 sq km is Silent valley, a virgin forest, which is believed to be the role surviving bit of evergreen forests in the Sahya Ranges or Western Ghats. The name Silent Valley is derived because it is devoid even of the chirping of cicadas. It contains India's last substantial stretch of tropical evergreen rain forests, and a large number of wild animals. Vehicular transport is possible only up to Mukkali, nearly 24 km from the park. The river Kunthipuzha, which follows through the valley, before, merging into the river Bharathapuzha.
Kannur District
Aralam Wildlife
The Aralam Sanctuary is spread over 55 sq km of undulating forested highlands on the slopes of the Western Ghats. The highest peak here - Katti Betta - rises to a majestic 1145 m above sea level.
Covered with tropical and semi evergreen forests, the Aralam Sanctuary is home to a vast variety of flora and fauna endemic to the Western Ghats. Herds of deer, elephant, boar and bison are common sights. Leopards, jungle cats and various types of squirrels are also seen here.
How To Reach
Nearest railway station: Thalasserry, about 35 km.
Nearest airport: Karipur International Airport, Kozhikode about 71 km from Thalasserry town.
Pappinisserry
The snake park here houses about 150 varieties of snakes including the Spectacled Cobra, King Cobra, Russell Viper, Krait and Pit Viper. There is also a large collection of non-poisonous snakes including Pythons.
A research laboratory to extract venom from snakes is proposed to be set up here. The park is dedicated to the preservation and conservation of snakes, many species of which are getting extinct gradually. Located 16 km from Kannur town on the Parassinikkadavu road.
Parassinikkadavu (Snake Park)
Parassinikkadavu Snake Park signifies the great role played by Snakes in keeping the ecology of nature. The park is dedicated to preservation and conservation of snakes, most of which are getting extinct gradually. It has snake pits and glass cases for king Cobras. In all there are about 150 snakes including spectacled Cobras, Monosialed Cobras, Russell Vipers, Pit Viper and two magnificent king cobras (5 m long). There is also a large collection of poisonous snakes and large Pythons. Entry Rs 10, Video Rs 100. Frequent buses from Kannur (18 km).