www.keralaradio.in
Tourism > India > Kerala > Houseboats

Houseboats of Kerala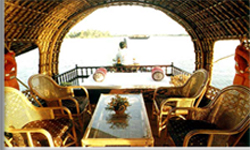 Kerala is a labyrinth of lazily meandering backwaters. Sprinkled with traditional houseboats, country crafts, rural lifestyles and Tranquility. It's an intricate network of innumerable lagoons, lakes, canals, estuaries and the deltas of forty-four rivers that drain into the Arabian Sea. Over 900 km of this labyrinthine waterworld is navigable. The largest backwater stretch in Kerala is the Vembanad lake which flows through three districts and opens out into the sea at the Kochi port.
The Houseboats of Kerala are giant country crafts, measuring up to 80 feet in length, retrieved from being lost to the State altogether. Once they ruled the backwaters, poled along by one or two men, heavily loaded with rice, coconut and other commodities. But in the recent times, the kettuvalloms have been replaced by more and modern modes of transport, relegating them to neglect and decay.
The houseboats of today - huge, slow moving, exotic barge used for leisure trips - are the reworked kettuvalloms of olden times. The original kettuvalloms were used to carry tonnes of rice and spices - a standard kettuvallom can hold up to 30 tonnes - from Kuttanad to the Kochi port.
The kettuvallam or 'boat with knots'- was so called because the entire boat was held together with coir knots only - not even a single nail is used during the construction. The boat is made of planks of jack-wood joined together with coir. This is then coated with a caustic black resin made from boiled cashew kernels. With careful maintenance, a kettuvallom can last for generations.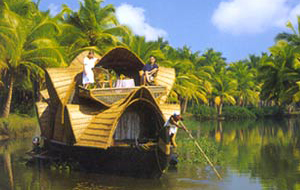 A portion of the kettuvallom was covered with bamboo and coir to serve as a restroom and kitchen for the crew. Meals would be cooked on board and supplemented with fresh fish from the backwaters. Today, the tradition is still continued and the food from the local cuisine is served by the Kuttanad localites, onboard.
When the modern trucks replaced this system of transport, some one found a new way that would keep these boats, almost all of which were more than 100 years old, in the market. By constructing special rooms to accommodate travelers, these boats cruised forward from near- extinction to enjoy their present great popularity.
Now these are a familiar sight on the backwaters and in Alapuzha alone, there are as many as 120 houseboats.
While converting kettuvallams into houseboats, care is taken to use only natural products. Bamboo mats, sticks and wood of the aracanut tree are used for roofing, coir mats and wooden planks for the flooring and wood of coconut trees and coir for beds. For lighting though, solar panels are used.
Today, the houseboats have all the creature comforts of a good hotel including furnished bedrooms, modern toilets, cozy living rooms, a kitchen and even a balcony for angling. Parts of the curved roof of wood or plaited palm open out to provide shade and allow uninterrupted views. While most boats are poled by local oarsmen, some are powered by a 40 HP engine. Boat-trains formed by joining two or more houseboats together are also used by large groups of sight-seers.
Locations for boating: Alappuzha, Kumarakom, Kollam, Kochi.