www.keralaradio.in
Tourism
>
India
>
Kerala
> Ayurveda
Ayurveda
Ayurveda is India's 5000 year old complete mind and body health care system, renowned for its vast knowledge of herbs and making use of it to help the body heal itself naturally. Ayurveda is now being reinvented all round the globe as the new age panacea for 21st century.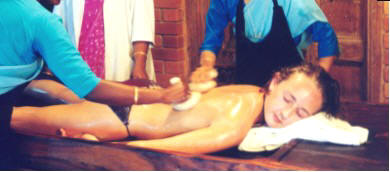 Njavarakizhi
Kerala's equable climate, natural abundance of forests (with a wealth of herbs and medicinal plants), and the cool monsoon season (June - November) are best suited for Ayurveda's curative and restorative packages. In fact, today, Kerala is the only State in India which practices this system of medicine with absolute dedication.
Vata, Pitta and Kapha: the three Doshas
In the physical body, Vata (composed of Space) and Air (the subtle energy associated with movement). It governs breathing, blinking, muscle and tissue movement, pulsation of the heart, and all movements in the cytoplasm and cell membranes. In balance, Vata promotes creativity and flexibility. Out of balance, Vata produces fear and anxiety.
Pitta, made up of Fire and Water, expresses as the body's metabolic system. It governs digestion, absorption, assimilation, nutrition, metabolism and body temperature. In balance, Pitta promotes understanding and intelligence. Out of balance, Pitta arouses anger, hatred and jealousy.
Kapha is formed from Earth and Water and is the energy that forms the body's structure bones, muscles, tendons. It provides the "glue" that holds the cells together. Kapha supplies the water for all bodily parts and systems. It lubricates joints, moisturizes the skin, and maintains immunity. In balance, Kapha is expressed as love, calmness and forgiveness. Out of balance, it leads to attachment, greed and envy.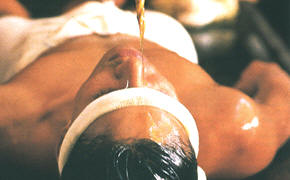 Sirodhara
According to Ayurveda, there are seven body types which are mono-types (Vata, Pitta or Kapha predominant), dual types (Vata-Pitta, Pitta-Kapha or, Kapha-Vata), and equal types, (Vata, Pitta and Kapha in equal proportions). Every individual has a unique combination of these three Doshas. To understand individuality is the foundation of healing according to Ayurveda, "The Science of Life".
Kerala Ayurveda Centres
The below Resorts are offering various therapies alongwith Accommodation. Therefore one can combine Ayurvedic therapy treatment with the tour of 'Gods' own country 'Kerala'. At all these below mentioned properties which come under the casino group of hotels provides excellent Ayurvedic treatments and hence are highly recommended. Casino Hotel (Cochin), Coconut Lagoon (Kumarakom), Spice Village (Periyar), Bangaram Island Resort (Lakhshadweep), Spice Cost Cruises (Puthenagadi), The Marari Beach (Mararikulam), Anjali Hotel (Kumarakom) and The Brunton Boat Yard (Cochin).
Thiruvananthapuram
Somatheeram Ayurvedic Beach Resort, Kovalam
Ideal Ayurvedic Centre, Chowara and Kovalam
Ayushya Ayurvedic Centre, Kovalam
Anugraha Health Centre, Vanchiyoor
Sreedhari Ayurveda Kendram, Statue
Soft Touch (ITDC), Ashok Beach Resort, Kovalam
Franklin Ayurveda Centre, Kovalam
Hotel Samudra, Kovalam
Medicos, Kovalam
Gopals Ayurvedic Beach Resort, Kovalam
Kerala Ayurveda Pharmacy Vellayambalam
Vasudevavilasam Ayurveda Centre, East Fort Trivandrum
Triveni Ayurveda Hospital, Vanchiyoor
Kottayam
Sera Sankara Ayurveda Vaidyasala, Perunnai, Changanacherry
Idukki
Sree Sankara Gardens, Anakkara, Kumily
Ernakulam
Nagarjuna Ayurveda Resort, Kaladi
Kerala Ayurveda Pharmacy
PNVM Santhigiri
Thrissur
Surya Ayurvedics Ltd, Kanjany
Sreedhari Ayurvedic Health Resort
Aryana Ayurvedic Physio Care Centre
Nattika Beach Resort
Palakkad
Kairali Ayurvedic Health Resort
Santhigiri Asthramom, Lesser
Raja Health Acres
Trivandrum
Ayurveda College
Ayurveda Hospital
Ayur Health Centre, Padmatheerthakara
Sri Dhanwantari Matom, Ambujavilasom Road
Triveni Ayurvedic Nursing Home
Santhigiri Hospital, Pothencode
Ayur Clinic
Sreedhari Ayurveda Kendram, Statue
Kollam
Susrutha Ayurvedic Research Center, Karunagappally
Alappuzha
Edison's Siddha Vaidyasala, Pazhavangady Church Road
Nature Cure Centre, Opp. Sakthi Auditorium, Arattuvazhy
Kottayam
Sree Sankara Ayurveda Hospital, Perunnai, Changancherry
Malappuram
Kottakkal Arya Vadyasala, Kottakkal
Govt Ayurveda Hospital
Poonkudi Mana, Perinthalmanna-Manjeri Road.
Kannur
Sree Sadan Ayurveda Oushadhasala, Haji Road