www.keralaradio.in
Tourism
>
India
>
Kerala
> Water Falls
Waterfalls of Kerala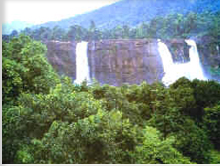 Athirapally
78 km from Kochi, this scintillating waterfall is a popular tourist spot. Access is via Chalakudy from Kochi-Trissur NH 47.
Vazhachal
Vazhachal is just 90 km from Kochi. The gliding Vazhachal waterfall is a part of the Chalakudy river located near Athirapally falls.
Palaruvi
This waterfall is in the border of Kerala and Tamilnadu. Its access is 35 km east of Punalur on the Kollam - Shenkottah road. It is near Ariankavu mountain pass. 5 km away is the spectacular Palaruvi waterfall at an attitude of 300 ft. with smaller cascades nearby. There you can see ruins of ancient temples. The water is said to be medicated as it flows down from the forest and is said to be a preventive for many diseases.
Perumthenaruvi
The famous Perumthenaruvi waterfall is nearly 50 km from Kottayam located in the Pathanamthitta district. Here, the water flows down a rocky bed into a ravine, sixty to on hundred feet deep. There is no transportation service, so 4 km distance by walk is required.