www.keralaradio.in
Culture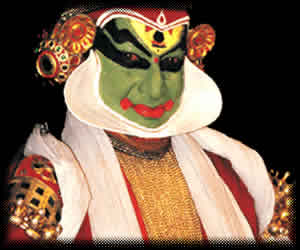 Kerala's culture is a blend of Dravidian and Aryan influences, deriving from both a greater Tamil-heritage region known as Tamilakam and southern coastal Karnataka. Later, Kerala's culture was elaborated upon through centuries of contact with neighboring and overseas cultures. Native performing arts include koodiyattom, kathakali – from katha ("story") and kali ("performance") – and its offshoot Kerala natanam, koothu (akin to stand-up comedy), mohiniaattam ("dance of the enchantress"), thullal, padayani, and theyyam. Other forms of art are more religious or tribal in nature. These include chavittu nadakom, oppana (originally from Malabar), which combines dance, rhythmic hand clapping, and ishal vocalisations. However, many of these artforms largely play to tourists or at youth festivals, and are not as popular among most ordinary Keralites. These people look to more contemporary art and performance styles, including those employing mimicry and parody. Additionally, a substantial Malayalam film industry effectively competes against both Bollywood and Hollywood.
Malayalam literature is ancient in origin, and includes such figures as the 14th century Niranam poets (Madhava Panikkar, Sankara Panikkar and Rama Panikkar), whose works mark the dawn of both modern Malayalam language and indigenous Keralite poetry. The "triumvirate of poets" (Kavithrayam), Kumaran Asan, Vallathol Narayana Menon, and Ulloor S. Parameswara Iyer, are recognised for moving Keralite poetry away from archaic sophistry and metaphysics, and towards a more lyrical mode. In the second half of the 20th century, Jnanpith awardees like G Sankara Kurup, S. K. Pottakkat, and M. T. Vasudevan Nair have added to Malayalam literature. Later, such Keralite writers as O. V. Vijayan, M. Mukundan, and Booker Prize winner Arundhati Roy have gained international recognition.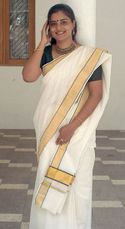 Kerala's music also has ancient roots. Carnatic music dominates Keralite traditional music. This was the result of Swathi Thirunal Rama Varma's popularisation of the genre in the 19th century. Raga-based renditions known as sopanam accompany kathakali performances. Melam (including the paandi and panchari variants) is a more percussive style of music; it is performed at Kshetram centered festivals using the chenda. Melam ensembles comprise up to 150 musicians, and performances may last up to four hours. Panchavadyam is a different form of percussion ensemble, in which up to 100 artists use five types of percussion instrument. Kerala has various styles of folk and tribal music. The popular music of Kerala is dominated by the filmi music of Indian cinema. Kerala's visual arts range from traditional murals to the works of Raja Ravi Varma, the state's most renowned painter.
Kerala has its own Malayalam calendar, which is used to plan agricultural and religious activities. Kerala's cuisine is typically served as a sadhya on green banana leaves. Such dishes as idli, payasam, pulisherry, puttu cuddla, puzhukku, rasam, and sambar are typical. Keralites—both men and women alike—traditionally don flowing and unstitched garments. These include the mundu, a loose piece of cloth wrapped around men's waists. Women typically wear the sari, a long and elaborately wrapped banner of cloth, wearable in various styles.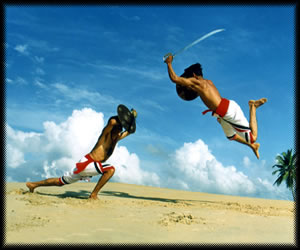 Several ancient ritualised arts are Keralite in origin. These include kalaripayattu—kalari ("place", "threshing floor", or "battlefield") and payattu ("exercise" or "practice"). Among the world's oldest martial arts, oral tradition attributes kalaripayattu's emergence to Parasurama. Other ritual arts include theyyam and poorakkali. However, Keralites are increasingly turning to more modern activities like cricket, kabaddi, soccer, and badminton. Dozens of large stadiums, including Kochi's Jawaharlal Nehru Stadium and Thiruvananthapuram's Chandrashekaran Nair Stadium, attest to the mass appeal of such sports among Keralites. Television (especially "mega serials" and cartoons) and the Internet have impacted Keralite culture. Yet Keralites maintain high rates of newspaper & magazine subscriptions, host a sizeable "people's science" movement, and participate in such activities as writers' cooperatives. Thrissur Pooram, the mother of all temple festivals in the state, is essentially one of spectacles.It is celebrated in Thrissur at Vadakkumnathan temple in the month of Medam (April) where the regaining deity is Lord Shiva. Situated on a hillock right in the centre of the city, the spaciously laid out 'kshetram' or temple attracts thousands of devotees from all over the land during the Pooram festival.