Tourism
>
India
>
Kerala
>
Districts
>
Alappuzha
> Edathua Church
Edathua Church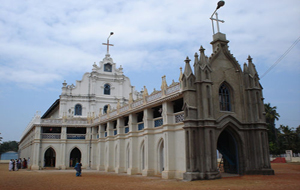 The Edathua Church, a massive shrine on the banks of the river Pamba, is dedicated to St.George. During the feast, the statue of St.George, decked in gold, was carried out in procession and placed on the dais at the centre of the Basilica. Processions were held everyday, and dazzling fireworks display highlighted in the initial as well as concluding day's rituals.
Devotees from all parts of the State attended the feast. As in all other festivals typical of Kerala, the church ground swarmed with vendors and stalls selling all kinds of things from food to utensils to jewellery. There were cultural performances every evening.
Feast
The Edathua feast is held from April 27 to May 7 every year.
Event Date : 1 May
How to Reach
St.George's Church, Edathua, about 23 km southeast of Alappuzha.
Nearest railway stations : Thiruvalla about 12 km; Alappuzha about 24 km.
Nearest airport : Cochin International Airport, about 85 km from Alappuzha town.
Photo Gallery Of Edathua Church