www.keralaradio.in
Tourism
>
India
>
Kerala
>
Districts
>
Thrissur
> Guruvayoor temple
Guruvayoor temple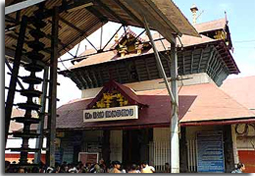 Guruvayoor is known as the Dwaraka of the South and is one of the most popular pilgrimage destinations in South India. Guruvayoor enshrines the youthful form of Krishna.
Guruvayur is most famous for its temple, which is many centuries old and one of the most important in Kerala. The temple is famous as a site for pilgrimage and also a cultural centre as it is one of the centre-points along which Kerala literature and art-forms have been developed. There are other temples nearby. Legend has it that at the beginning of this era (yuga), Guru Brihaspati found a floating idol of Lord Krishna. He along with Lord of Air installed the idol in this temple for helping mankind get through the travails of this yuga. Hence the deity is named Guru-Vayur-Appan.
Attractions
Chembai Sangeetholsavam
This Karnatic music festival is held for 11 days in the memory of Sri Chembai Vaidyanadha Bhagavathar, as part of the Ekadasi celebrations.
Ekadasi
The most important festival during the Mandalam period, lasting for a month. It was on the Guruvayur Ekadasi day that Lord Krishna revealed the Gita to Arjuna.
Anakotta
Guruvayur Devaswom elephant sanctuary - one of the largest elephant sanitarium in all over the world, also known as Punnathurkotta is 3 km far from Guruvayur temple.
Arattu
Lord's Thidambu is taken to the Rudratheertha (temple pond) for Aarattu, amidst the chanting of mantras.
How to Reach
The Cochin International Airport is 65 km away. The nearest railway station is Guruvayur. Guruvayur is well connected by rail and road to Thrissur (32 km).