www.keralaradio.in
Tourism
>
India
>
Kerala
>
Districts
>
Thiruvananthapuram
> Kanakakunnu
Kanakakunnu Palace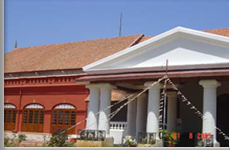 The Kanakakunnu Palace is situated near the Napier Museum in Thiruvananthapuram. The Palace was constructed in the reign of the Travancore king, Hiss Highness Sree Moolam Tirunal (1885-19240). The palace was the main venue for Royal banquets. Later Hiss Highness Sree Chithira Tirunal modified the palace and constructed tennis courts in the palace premises. This stunning piece of architectural excellence was used by the Travancore royal family to entertain their guests in the earlier days. The interiors are decorated with large crystal chandeliers and exquisite pieces of royal furniture.
The palace situates on the crest of a small hill surrounded will meadows and grooves. The palace is a perfect example for the artistic quality of the people of Thiruvananthapuram.
The Nishagandhi open-air auditorium and the newly constructed Sooryakanthy auditorium in the Palace compound are the usual venues for various cultural events.