www.keralaradio.in
Tourism
>
India
>
Kerala
>
Districts
>
Kozhikode
> Kappad
Kappad
Kappad or Kappakadavu locally, is famous as the beach near Kozhikode. Malabar was abundant in spices, and produced a calico textile. Currently it is one of the most important tourist places in Kerala, with a wide and beautiful beach.
Kappad is home to a famous school, Ilahiya Higher Secondary School, which offers broad educational opportunities. Thiruvangoor Higher Secondary School is also well known and is the oldest in the area.
Kappad Beach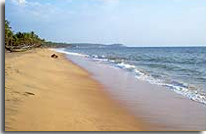 Kappad beach is located 16 km from Kozhikode town in North Kerala. The sandy beach is backed by a rocky landscape with some rocks also strewn across the Kappad beach. A pillar with the inscription "Vasco da Gama landed here, Kappakadavu, in the year 1498" marks the spot where history was made over 500 years ago. While on tours of Kappad beach with Kerala backwater you can see the local fisherfolk mend their nets and take their boats out to sea, in a routine that has continued for centuries. Vasco da Gama would have seen a similar sight when he landed on Kappad beach. A single large rock juts out to the sea from Kapapd beach. On this rock is a temple that is said to be 800 years old. The nearby Korapuzha river empties into the sea alongside Kappad beach.