www.keralaradio.in
Tourism
>
India
>
Kerala
>
Districts
>
Thiruvananthapuram
> Kovalam
Kovalam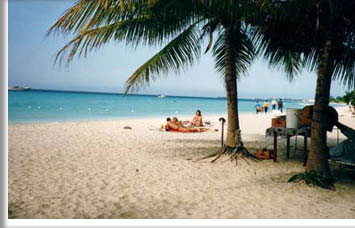 Kovalam is a beach town on the Arabian Sea in Kerala, a state in south India. It is located around 16 km outside Thiruvananthapuram (Trivandrum) city. There are a large number of beach resorts in and around Kovalam. The sea port of Vizhinjam is about 3 km away and famous for its special varieties of fish, old Hindu temples, big churches and a mosque. The Proposed International Trans shipment Terminal at Vizhinjam is also close to Kovalam.
Kovalam was among the most prominent tourist spots in India during the hippy era. It still has a high status among tourists, who arrive mostly from Europe and Israel. Kovalam is finding a new significance in the light of several Ayurvedic saloons, and recuperation and regeneration resorts which provide a wide variety of Ayurvedic treatments for tourists.
The crescent-shaped beaches of Kovalam can be divided in three parts. The southern most beach, and the most popular, is the Lighthouse beach. Further south on the beach one can have a spectacular view of the Vizhinzam mosque.
The middle beach is called Hawah. Each morning this beach acts as a base for the local fisherman. The northern most beach, Samudra, is least affected of all by the changing times.It is dotted with few rudimentary wooden fishing vessels.