www.keralaradio.in
Tourism
>
India
>
Kerala
>
Districts
>
Kollam
> Kunnathur
Kunnathur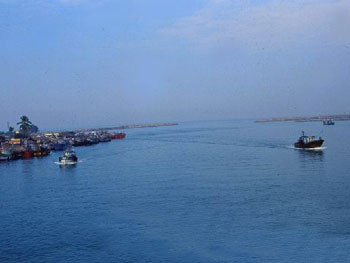 Kunnathur taluk headquarters is at Sasthamcotta which is an attractive village situated about 19 km from Kollam town. It is a beauty spot, a health resort and a centre of pilgrimage. The extensive fresh water lake here is said to be the biggest of its kind in Kerala. Water supply to Kollam town is met by purifying the water from this lake. Buses are frequently operated to Sasthamkotta, which can truly be called as Queen of lakes.
Sasthamkotta lake
Sasthamkotta, situated about 29 km from Kollam town, can be rightly called the 'Queen of Lakes'. This vast fresh water lake, flanked by hills on three sides, is the largest of its kind in Kerala. The ancient Sastha temple on its shores, which lends its name to the town, is an important pilgrim centre. This temple, dedicated to both Lord Ganesha and Lord Ayyappa, is surrounded by hills and forests, and the monkeys inhabiting the premises are considered holy. The monkeys of Sasthamkotta are believed to be the faithful entourage of the ruling deity, the 'Dharmasastha' and therefore have a spiritual ambience about them. The monkeys are devotee-friendly, and the thousands of devotees visiting the temple take pleasure in feeding them with nuts and fruits.
Sasthamkotta, Kerala's largest freshwater lake, is 29 km from Kollam and on the right bank of the Kallada river. This is a small town with a temple dedicated to Lord Sastha. An hour's bus ride from Kollam, Sasthamkotta has a PWD Rest house where accommodation is available.
Villages
| | | |
| --- | --- | --- |
| Kunnathur | Poruvazhi | Sooranad South |
| Mynagappally | Sasthamcotta | |
| Padinjara (West) Kallada | Sooranad North | |