www.keralaradio.in
Tourism
>
India
>
Kerala
>
Districts
>
Kottayam
> Kurisumala
Kurisumala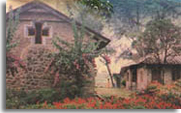 Kurisumala, a sky-scraping mountain with a small church on its peak is a famous Christian pilgrim center in Kottayam District. During the holy week and after, hundreds of devotees climb this holy hill carrying small wooden crosses. The peaceful, cool, hill with lush green landscape and Jewish monastery are all soothing to the soul.
There is another mount on the eastern side of this hill called Muruganmala, which houses a rock cut temple dedicated to Muruga (son of Lord Shiva). On the way to Kurisumala one can see a European model house and the beautiful artificial lake, designed by the renowned architect, Laurie Baker.
The mausoleum of Sheikh Fariduddin at Thangalppara makes this place a famous Muslim pilgrim centre also.