Tourism
>
India
>
Kerala
>
Districts
>
Alappuzha
> Mannarsala
Mannarsala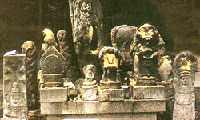 Mannarsala is famous for the ancient temple of sree Nagaraja, the King of Serpents. Pilgrims from all over the country assemble here during the two day annual festival. The temple assumes the form of a small forest in a tiny village.
Legend has it that hundreds of years ago, there was a Namboodiri family which was issueless. In order to prolong the tradition of the family, a bride was brought into the family from somewhere in northern Kerala. After some time, she conceived and gave birth to a baby boy and a snake. It is supposed that this snake was installed in the sanctum of the temple as Nagaraja.
Another version to the story originated as early as the age of Mahabharata. It is believed that during the Pandava epoch, the whole Khandava forest was burnt. However, a small patch of land in the midst of the forest remained intact. Hence the justification to the name of the place - Man (sand) Ara (dried) sala (place).
The main poojas are performed by a priestess. She is usually the daughter-in-law of the temple household. She has to be learned in the areas of Sanskrit and other rituals of the temple. She stays in the temple house in a separate room where other priests and their family members reside.
The main offering given to the Lord is salt and turmeric. The temple is famous for removal of all ills associated with Sarpa Dosha - a bad feature occurring in a person's horoscope due to unfavourable location of the planets. Lord Nagaraja is believed to be the remedy for this ill. Also, issueless couples make a visit to the temple and offer an uruli (brass vessel) to the Lord. This is kept face down until their vow is fulfilled. Once their prayers are answered, they come back, upturn the uruli and express their gratitude.
Outside the temple is a lady who plays a special song dedicated to the Lord. This song is known as Pulluvan Pattu. Devotees may specify their names and the stars under which they are born and she will sing a divine verse to the Lord praying for the devotee's welfare.
The main functions performed in the temple are during the Malayalam months of Kanni and Thulam on the day of the star Ayilyam, which is the birth star of the Lord. One finds more crowds on Sundays than on other days. In Kanni and Thulam, the deity is taken in a procession by the priestess in a mood of frenzy. Pooja is performed throughout the night.
How to Reach
It is 32 km from Alappuzha near Haripad (3 km). Auto rickshaws ply regularly to the temple from Harippad. Harippad (on NH 47) has a Railway station.
Where to Eat
Hotel Aryas (Vegetarian), near Harippad KSRTC station.