Tourism
>
India
>
Kerala
>
Districts
>
Thiruvananthapuram
> Peppara WLS & Neyyar dam
Peppara Wildlife Sanctuary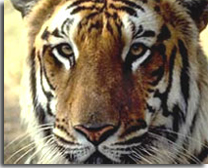 Peppara Wildlife Sanctuary has an area of 128 sq km. The total water spread of the reservoir is 5.82 sq km with the Neyyar dam. With meadows and slopes, altitudes ranging from 90 to 1800 meter, the sanctuary is contiguous with the Kalakkadu Tiger Reserve and Mundanthurai Wildlife Sanctuary in TamilNadu. The famous Agasthyamala and the Meenmutty falls form part of this sanctuary. Agasthyamala can be trekked with permission from Forest department. Access is via Nedumangad, Kottur.
The sanctuary is located about 30 km north east of Thiruvananthapuram city in Nedumangad taluk of Thiruvananthapuram district between longitude 76°40' and 77°17' east and latitude 80°7' and 8°53' north. General topography of the area is hilly with elevation varying from 100 m to 1717 m. Rainfall and other climate factors are similar to that of Neyyar wildlife sanctuary. There are 13 tribal settlements in the sanctuary. Eleven are in Athirumala section and two are in Thodayar section.
The forests of Peppara Wildlife sanctuary constitute the catchment of Peppara dam constructed across Karamana river and commissioned during 1983 to augment drinking water supply to Thiruvananthapuram city and suburban areas. The area was formerly a part of Paruthippally range of Thiruvananthapuram Territorial Division.
There are over 1000 species of flowering plants, including some of the best orchids in the world. The endangered primates, the lion-tailed macaque and the Nilgiri languor share the ever green forest. Other animals like bonnet macaque and giant squirrels are seen here. Elephants, Sambhar deer, gaur, barking deer, mouse deer and wild boar.
Kerala Tourism Development Corporation organizes (KTDC) tours to Neyyar Dam. There is a Lion Safari Park spanning an area of four hectares and a Crocodile Farm established in 1977. Boats can be hired to explore the shores of the sanctuary.
How To Reach
Nearest Airport & railhead: Thiruvananthapuram
Road: Peppara wildlife sanctuary is is 30 km by road via Vithurai on Ponmudi road.