www.keralaradio.in
Tourism
>
India
>
Kerala
>
Districts
>
Kollam
> pathanapuram
Pathanapuram
Pathanapuram is situated on the eastern part of the district, it covers an area of 248.32 sq km. Live-stock activities like dairying, poultry, goat rearing etc and industrial activities like brick making, bamboo weaving etc are the main occupation. The block is rubber predominant. Population is 1.57 lakh. Panchayats are Pathanapuram, Pattazhivadakkekkara, Piravanthoor, Thalavoor, Vilakuddy and Pattazhy.
Pathanapuram is an important trading center on the banks of the Kallada river. It is only 13 km away from Punalur. The Chandanakkudam mahotsava of the mosque there, celebrated every year in February-March, attracts thousands of devotees.
Gandhi Bhavan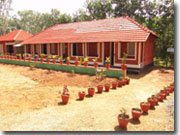 Gandhi Bhavan is an International charitable, medical & educational Trust with its Head Quarters at Pathanapuram, Kollam District, Kerala. This Trust stands for the promotion of Charitable, Educational and Medical facilities for the benefit of mankind. It is named after Mahatma Gandhi who fought for and won political freedom for the country.
The symbolic importance of accepting his name for the Trust lies in the fact that the Trust is continuing his endeavour to gain freedom from pain, poverty, sickness and other social evils. As envisaged by the father of our nation, the Trust strives for the all round development of human personality upholding the values of peace, truth, justice, tolerance, kindness and love.
Villages
| | | |
| --- | --- | --- |
| Alayamon | Anchal | Arackal |
| Arayankavu | Channapeetah | Edamon |
| Ayranallore | Edamulakkal | Eroor |
| Karavaloor | Kulathupuzha | Maloor |
| Pathanapuram | Pattazhi | Pidavoor |
| Piravanthoor | Punalur | Punnala |
| Thalavoor | Thenmala | Thinkalkarikkom |
| Vadakode | Vilakkudi. | |