www.keralaradio.in
Tourism
>
India
>
Kerala
>
Districts
>
Alappuzha
> Pathiramanal
Pathiramanal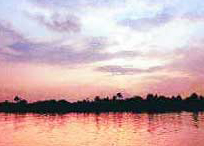 Pathiramanal is a small island located on the border of Kottayam - Alapuzha Districts in Kerala, India. The name 'Pathiramanal' means 'Sands of night'. The island is located in the Vembanad lake. The island is an easily reachable location in the Kumarakom - Muhamma water route. It takes around 40 minutes from Kumarakom to reach Pathiramanal. The journey through backwaters of Kottayam District is a marvelous experience. The scenic beauty of both sides of the lake as well as that of the island is mind blowing. It is home to many rare varieties of migratory birds from different parts of the world.
Legend
According to mythology, a young brahmin dived into the Vembanad lake to perform his evening ablutions and the water made way for land to rise from below, thus creating this enchanting island of Pathiramanal (sands of night).
How To Reach
The nearest airports are the Cochin International Airport, about 85 km north of Alappuzha and Thiruvananthapuram, about 150 km towards the south. Alappuzha is the nearest railway station.