www.keralaradio.in
Subdivisions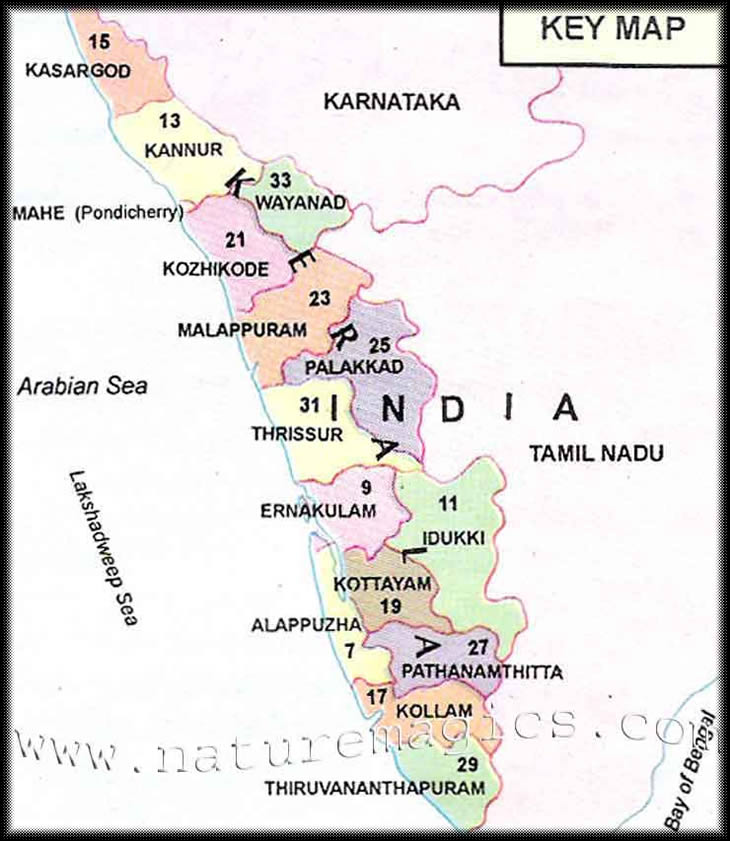 Kerala's districts, shaded by population per km². Kerala's fourteen districts are distributed among Kerala's three historical regions: Malabar (northern Kerala), Kochi (central Kerala), and Travancore (southern Kerala). Kerala's modern day districts (listed in order from north to south) correspond to them as follows:
Malabar: Kasaragod, Kannur, Wayanad, Kozhikode, Malappuram, Palakkad
Kochi: Thrissur, Ernakulam
Travancore: Kottayam, Idukki, Alappuzha, Pathanamthitta, Kollam, Thiruvananthapuram
Mahé, a part of the Indian union territory of Puducherry, is a coastal enclave surrounded by Kerala on all of its landward approaches. Thiruvananthapuram is the state capital and most populous city. Kochi is the most populous urban agglomeration and the major port city in Kerala. Kozhikode and Thrissur are the other major commercial centres of the state. The High Court of Kerala is situated at Ernakulam. Kerala's districts, which serve as the administrative regions used for taxation purposes, are further subdivided into a total of 63 taluks; these have fiscal and administrative powers over settlements within their borders, including maintenance of local land records.