www.keralaradio.in
Tourism
>
India
>
Kerala
>
Districts
>
Kannur
> Taliparamba
Taliparamba
Taliparamba is a city and a municipality in Kannur district in the Indian state of Kerala. It consists of 47 villages which are spread over an area of 1330.56 sq km. It stretches from the coastal area of Ramanthali to Nuchiyard and Vayathur villages, touching the Karnataka border.
The undulating hills that surround this little town make it exceptionally beautiful. The surrounding villages of Pattuvam, Kuttikkol and Karimbam are filled with lush green fields and little rolling hills. The rivers of Kuppam and Valapattanam surround the towns from all sides and the Arabian sea is only 14 km to the western side. The hanging bridge at Kuttiyeri and the beautiful riverside temple at Parassinikkadavu attaract a large number of toruists.
The Taliparamba Muthappan temple temple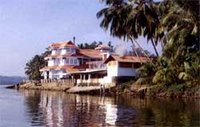 It's the most popular local god in the Kannur District of north Kerala state, south India. Muthappan is also the theyyam performed in the famous Parassinikkadavu temple 16 km north of Kannur town. Other theyyams are seasonal (the season lasting October to May), but Muthappan theyyam is performed year round. This temple is in the banks of Valapattam river.
Taliparamba is regarded as one of the ancient Shakti Peethams. Legend has it that the head of Sati - fell here after Shiva's tandavam following Sati's self immolation (see legend of Daksha yagna). This temple is regarded as one of the 108 ancient Shiva temples of Kerala. The quadrangular sanctum has a two tiered pyramidal roof. In front of the sanctum is the namaskara mandapam. The temple has no flagstaff. Offerings of ghee in small pots are made to the presiding deity Shiva and are placed on steps leading to the sanctum. The Malayala new year Vishu and Shivaratri are celebrated at this temple.