www.keralaradio.in
Tourism
>
India
>
Kerala
>
Districts
>
Kollam
> Thangasseri
Thangasseri
Thangasseri is a beautiful seaside town near Kollam on the shores of the Arabian Sea. Plan a Tour to Thangasseri and explore this serene and peaceful beach of Kerala. Walk amidst the golden sands and beaches lined with groves of coconut trees and rejuvenate yourself with the fresh air.
Thangasseri has a 3 km long beach, an old lighthouse and age old ruins of the Dutch empire. This small seaside town of used Thangasseri used to be a major Portuguese settlement in the early years and was then occupied by the Dutch and later on the English.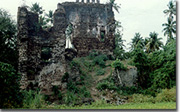 Kollam was one of the oldest ports used to import cashew from the Malabar coast. Thangasseri was thus the center stage of these maritime traders who came to India during the early years. Thangasseri still has preserved the age old ruins of the Portuguese and Dutch settlers who settled in India. Thangasseri also has some 18th century churches. Take a tour to Thangasseri and rediscover the remnants of history.
For all of you who wish to add some beauty and serenity in your vacation, should take a tour to Thangasseri. From February to November drop in to this cozy beach destination of Thangasseri.
Thangasseri beach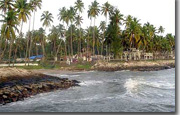 The Thangasseri beach, is 3 km long and is 5 km from Kollam. The Thangasseri Light house was first used in 1902 and is 144 ft tall which used to warn the seafarers about the dangerous reefs in the Thangasseri coastline. It is open to the public from 1530 to 1730 h. Thangasseri, once favoured by the Portuguese, Dutch and the British has its place in history due to the ruins of their old forts. Other places of interest are the churches built in the 18th century.