www.keralaradio.in
Tourism
>
India
>
Kerala
>
Districts
>
Thiruvananthapuram
> Thiruvallam
Thiruvallam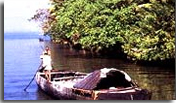 Situated just 6 km from Thiruvananthapuram, the capital city of Kerala, Thiruvallam is a popular tourist backwater destination. Two Kerala rivers, Karamani and Killi come together near Thiruvallam close to Thiruvananthapuram in Kerala, South India and consequently create a beautiful backwater tourist spot drowned in natural beauty with dark green and dense vegetation in perfect harmony with the blue-green placid waters that offer the perfect fishing retreat and picnic spots.
Thiruvallam tours with Tourism in Kerala have a special religious significance. Pilgrims perform religious rituals at Thiruvallam with the objective of honoring their long past gone ancestors.
The Veli lagoon that is located at a few kilometers from Thiruvallam in Thiruvananthapuram in Kerala is the ideal tourist spot for those who enjoy boating and other water sports.