Tourism
>
India
>
Kerala
>
Forests
> Thopetti
Begur Wildlife Sanctuary, Tholpetti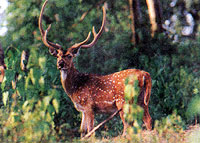 This sanctuary, 20 km east or Mananthavady (in Wayanad district), is home to many exotic species of fauna. Bee-eater (Nectyronis othertoni), a rare blue beard bee-eater bird has been sighted in Wayanad. The blue bird bee-eater is the largest bee-eater in the world. This rare bird builds nests on the ground and usually dwells in forest especially low land forest clearings and open hill forests. The bird has pale blue forehead and a "beard". The upper parts of the head are green and the belly adorned with soft streaks. The long tail is yellow below and square ended. The bird has de-curved slender black bill and short wings. Its call is audible from a good distance.
Before feeding the young, the bird gives a special kind of call to its young ones, perching on a nearby tree as if signaling them to come to the entrance of the nest to receive the food. The nests are found to be almost two and a half meter long inside, a peculiar to this species. The nest and the chicks are highly vulnerable to attack of snakes. Out of the 24 species of bee-eaters seen in the world, six have been spotted in India. Bee-eaters play a major role in controlling insect pests, especially wasps, which are poisonous.
Pakshipathalam trek from Tirunelli will be an unforgettable experience for the nature lovers. Nagarhole sanctuary in Karnataka can be reached by jeeps from Tholptty (20 km).
Nagarhole Wildlife Sanctuary (Rajiv Gandhi National Park), Karnataka
'Nagarhole' means 'Snake River' in Kannada and has been so named because of the winding and twisting course of the river that flows through the forests. Nagarhole is a part of the Nilgiri Biosphere Reserve. The Sanctuary has an area of 643.39 sq km, established in 1955, located 40 km from Mananthavady, Kerala. The park houses diverse species of plant and animal life. Timing : 6 to 8 am and 3 to 5.30 pm.
This erstwhile hunting preserve of the Mysore royalty has swamps too besides the lush green vegetation and a wide variety of wildlife. The other highlights of the fauna of Nagarhole National Park are Four-horned Antelopes, Sloth Bears, Jungle Cats, Civets, Spotted Deers, Wild Dogs, Flying Foxes, Tigers, Panthers, Gaurs (Indian bisons), Sambhars, Wild Boars, Black-naped Hares, Bonnet Macaques and Pangolins.
One can also see reptiles such as Cobras, Crocodiles, Kraits, Pythons, Vipers, and numerous species of Lizards here. Besides these more than 250 bird species can be found here including Common Babblers, Bee-eaters, Bulbuls, Doves, Crested Serpents, Hornbills, Alexandrines, Peacocks, Warblers, Golden-back Parakeets and several more.
Excellent facilities for jungle activities and wildlife viewing are available here and guides are available to help you track the tigers and the leopards. More adventurous can opt for trekking through these wilderness with prior permission from the authorities. Those interested in trekking should avoid visiting the park during monsoons as floods wash out most of its dirt tracks and leeches render trekking impossible.
How to reach
The nearest Airport is Bangaluru (220 km). The nearest Rail head is Mysore (96 km / 2 hour to Sanctuary). It is located 40 km from Mananthavady, Kerala accessible by jeeps via Tholpetty. The road traffic closes at 6 pm due to elephant crossings.
Best Season : October to May.
Where to Stay
The Forest Department manages two rest houses, but reservation has to be made well in advance through the Forest Department offices in Mysore or Bangalore. The Kabini River Lodge near Karapur on the Mysore-Manathavadi highway also has good accommodation facilities.