www.keralaradio.in
Tourism
>
India
>
Kerala
>
Districts
>
Kozhikode
> Vadakara
Vadakara
Vadakara is known as the birth place of Thacholi Othenan - the legendary hero of the Vadakkanpattu (ballads of North Malabar), Vadakara boasts a great martial tradition and was a flourishing trade and commerce centre in ancient times.
Lokanarkavu Temple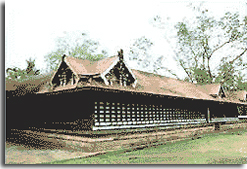 Lokanarkavu temple is located 5 km from Vadakara, Kozhikode district. This temple is frequently alluded to in the northern ballads or the 'Vadakkanpattu' of Kerala. The three rock cut caves in the temple premises are artfully engraved with beautiful carvings and fascinating murals. The main temple, according to legend, is more than 1500 years old. The main deity here is Goddess Durga, with two adjacent shrines dedicated to the gods Vishnu and Siva. The annual festival of the temple is called Pooram.
The week-long festival begins with Kodiyettam (flag hoisting) and concludes with Arattu. The temple dedicated to goddess Bhadrakaali has great historical importance as Thacholi Othenan, the legendary martial hero of Kerala, used to worship here every day.