www.keralaradio.in
Tourism
>
India
>
Kerala
>
Beaches
> Varkala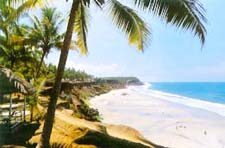 Varkala Beach
Varkala is a sea side resort, as well as an important Hindu centre of pilgrimage. High cliffs with rich mineral springs rise majestically from the coastline. The 2000 year old Janardana Swamy Temple (Shrine of Lord Vishnu) and the Nature Centre are the two main attractions of Varkala Beach.
This beach of Kerala is rich in mineral water springs that are known for their medicinal value. A dip in the holy waters of Varkala beach is believed to purge the body and the soul of all the sins hence the name 'Papanashini' for this shore. At the break of dawn following the new moon in the Malayalam month of 'Karkidakam', thousands offer 'Vavu Bali', a ritual believed to help the souls of ancestors rest in peace.
How To Reach
Rail: The railway station is 3 km from the beach.
Bus: Varkala is 54 km from Thiruvananthapuram and 37 km from Kollam. Varkala is 90 minutes away on the bus and a pleasant convenient place to stop for a night or more or an afternoon when travelling between Alappuzha or Kollam and Thiruvananthapuram.