www.keralaradio.in
Tourism
>
India
>
Kerala
>
Districts
>
Ernakulam
> Bhoothathankettu
Bhoothathankettu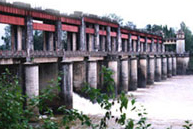 Bhoothathankettu located 50 km north east of Ernakulam town, is a scenic dam site with boating facilities is situated in a vast virgin forest. It is a popular picnic sport with Salim Ali Bird Sanctuary near by.
A myth connected with the origin of this place says that this natural fortification of forests and hills was built by Bhoothams (spirit/ghosts) overnight. Hence the name Bhoothathankettu (fort of the spirits). Later, this natural topography helped in building a dam here.
Lying close to Bhoothathankettu is the Salim Ali Bird Sanctuary at Thattekkad . Trekking through the forests here is an exhilarating experience for adventure lovers.
Two of the main irrigation projects of Ernakulam district - the Periyar Valley Irrigation Project and the Idamalayar Irrigation Project - are also located nearby.