www.keralaradio.in
Tourism
>
India
>
Kerala
>
Districts
>
Ernakulam
> Chennamangalam
Chennamangalam
Chennamangalam, a small town in Ernakulam district is in the state of Kerala, India. Chennamangalam is situated 42 km from Ernakulam town. It has three rivers, seven inlets, hillocks and the plains are covered with greenery. It is known for the famous Jewish Synagogue. It stands as one of the best examples of communal harmony and brotherhood as the Church, temple, mosque and Jewish synagogue all lie together within a stretch of a kilometer in Chennamangalam.
At one time Chennamangalam used to be the residence of the Paliath Achans, the prime ministers of the Maharajas of Kochi. It represents the architectural grandeur of Kerala. The Palace is over 450 years old and it houses a collection of historic documents and relics.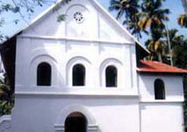 Jewish Synagogue represents the presence of the Jewish community that once moved to India and lived harmoniously with other communities. There is an amalgamation of both Jewish and Kerala architecture in many buildings in Chennamangalam.
One can even visit the remains of the Vypeenakotta Seminary built in the 16th century by the Portuguese. Adjacent to the seminary is an old Syrian Catholic Church built in 1201. It is also the first site where the first printing press in India came up.
Another attraction at Chennamangalam is Sree Venugopala Krishna Swami Dewasthan which was established in 1900 AD. It is 42 km from Ernakulam and the main deity here is Venugopalakrishna Swami. There is also an Utsav idol of the Lord as well as the idols of Garuda and Hanuman at His feet. The temple celebrates annual festival for six days in the month of Vaisakh.