www.keralaradio.in
Tourism
>
India
>
Kerala
>
Districts
>
Kasargod
> Kanhangad
Kanhangad
Kanhangad is a city and a municipality in Kasaragod district. It is 28 km from the district headquarters of Kasargod. Kanhangad is also known as the Commercial Hub of Kasaragod district.
Attractions
Anandashram & Nityanandasramam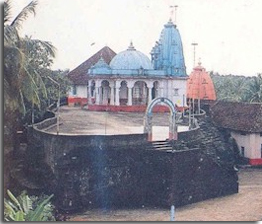 Anandashramam, situated about 5 km east of the Kanhangad Railway Station, was founded in 1939 by Swami Ramadas, a great Vaishnava saint of modern times. The main asramam and other buildings have a beautiful setting in the midst of shady mango, coconut and other groves. There is a hill to the east of the ashramam, to which the devotees retire for quiet meditation and from its west, the surrounding extensive landscape can be seen in its natural grandeur. The spot at the highest point of the hill is so fascinating that the devotees, who go up the hill and sit silently, are blessed with deep peace and tranquillity. The Nityanandasramam, which is situated on the hillock about half a km. south of the Hosdurg taluk office, was founded by Swami Nityananda. The spot was at first part of a forest area. Here Swami Nityananda constructed 45 guhas (caves) in a mountain slope. There is a temple built in 1963, after the style and design of the famous Somanatha temple in Gujarat. A full size statue of Swami Nityananda in sitting posture made of panchaloha is one of the attractions of the asramam.
Hosdurg Fort (half a kilometre south of Kanhangad) is renowned for its chain of forts built by Somashekara Nayak of Keladi Nayaka dynasty of Ikkeri.
Adot Vanadurga temple, Bellikoth where the Sahashrachandika Yaagam was conducted for the prosperity of the people living all over the world.