www.keralaradio.in
Tourism
>
India
>
Kerala
>
Districts
>
Pathanamthitta
> Kozhencherry
Kozhencherry
Kozhencherry is situated 13 km from Pathanamthitta on the banks of the river Pamba. It is a major town in Pathanamthitta district. Kozhencherry is one of the five taluks in Pathanamthitta district. Pathanamthitta town is the capital of Kozhencherry taluk.
The place is famous for the Maramon Convention, the biggest religious gathering of Christians in Asia, held in February-March on the banks of the river Pamba. Christians from all over India assemble here to listen to the gospels read and expounded by scholars of Christianity drawn from India and abroad.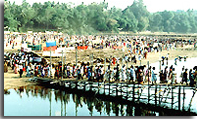 The district was made up from combining areas from the Alappuzha, Idukki and Kollam Districts. Major towns in the district are Pathanmthitta, Tiruvalla, Adoor, Ranni, Konni, Mallappally and Kozhencherry. More than 50% of the geographical area is covered by forests. Kozhencherry is a trading and business centre in central Travancore. It is a fast developing town in central Travancore. It is also happening as a major IT Hub.
Aranmula is a suburb of Kozhencherry. It is the venue of the annual snake boat race on the Pampa; the place is also famous for its metal mirrors.