www.keralaradio.in
Tourism
>
India
>
Kerala
>
Districts
> Pathanamthitta
Pathanamthitta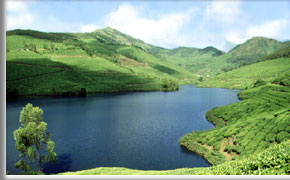 District Profile
| | |
| --- | --- |
| District Name | Pathanamthitta |
| State | |
| Country | |
| Area | 2,642 sq km |
| Population | 1,231,577 (Approx) |
| Rain Fall | 229 cm (annual) |
| Temperature | Min 20 °C - Max 39 °C |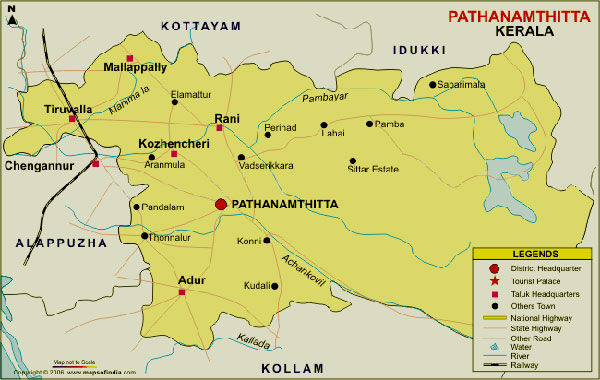 It was carved out of Idukki, Alappuzha and Kollam districts in 1982. The district is close to the western Ghats and is endowed with scenic landscape comprising of low undulating hills, extensive stretches of lush forests, rivers and charming countryside. It is also known for exuberant fairs and festivals. The Thiruvalla taluk is known for its cane and rattan work industry. Copra is produced and exported from the district in large scale. Other important cash crops produced here are pepper, tapioca and rubber. Pathanamthitta district is known as the 'Headquarters of Pilgrimage Tourism', of the State.
History
It is presumed that the regions presently under the district were formerly under the Pandalam reign which had connections with the Pandya kingdom. Pathanamthitta now includes portions of the erstwhile Kollam, Alappuzha and Idukki districts. Pathanamthitta, Adoor, Ranni, Konni and Kozhencherry are some of the important places taken from Kollam district, whereas Thiruvalla and Mallappally are the major places taken from Alappuzha district.
National Movement
The district can be proud of its rich contribution to the struggle for freedom. When Mahatma Gandhi visited the erstwhile Travancore in 1937, he asked his follower Khadar Das T.P. Gopala Pillai to spread the message of Khadi and Charka. Inspired by Gandhiji he founded the 'Mahatma Khadi Ashram' at Elanthoor 1941. He launched a scheme for mobilizing funds for khadi activities known as 'ek paise fund' in order to ensure the participation of the whole people in the khadi movement.
There was strong protest in Travancore against the British in connection with the visit of the Prince of Wales in 1921. In 1922, a student's strike was held which instilled a lot of spirit and enthusiasm among the freedom fighters. During the same period, Congress leaders like Ponnara Sreedhar and K. Kumar, the participants from Kerala in the flag satyagraha at Nagpur were arrested and beaten up by the police. The contribution of Elanthoor K.Kumar, Thadiyal Raghavan Pillai, Pandalam KP and N.G. Chacko to the National Movement have much significance in the history of freedom struggle.
Rivers
Three important rivers flow through the district. They are Pamba, Achankovil and Manimala rivers. The Rishimala forms the river Achankovil, Pasukidamettu and Ramakkalteri and joins the Pamba at Veeyapuram in Alappuzha district. The Pampa river is a confluence of Pambayar, Aruthayar, Kakkadayar, Kakkar and Kallar. It descends from Sabarimala, flows through various parts of Ranni taluk, enters Alappuzha district after joining with river Manimala and river Achankovil and empties itself into the Vembanad lake.
Places Of Interest
How to Reach
Air : Nearest airport is Thiruvananthapuram (119 km), Ernakulam Nedumbassery Airport (146 km)
Rail : Nearest railway station is Thiruvalla (30 km); Chengannur (28 km)
Road : Pathanamthitta is well connected by an excellent network of roads to all major towns in Kerala. Kottayam is 56 km away.