www.keralaradio.in
Tourism
>
India
>
Kerala
>
Districts
> Wayanad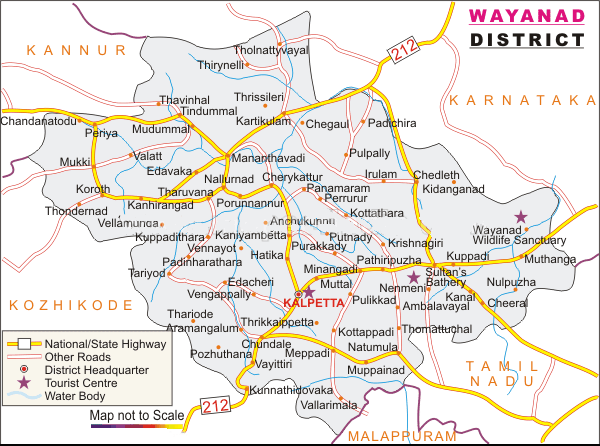 Wayanad
District Profile
District Name

Wayanad

State

Country

Area

2,131 sq km

Population

7,80,619 (Approx)

Rain Fall

250 cm (annual)

Temperature

Min 20 °C - Max 35 °C

Geographical location

North Latitudes : 11° 27' & 12° 48'
East Longitudes : 75° 47' & 70° 27'

Tourist Seasons

August to May

STD Code

04936
Boundaries
East: Nilgiris & Mysore, North: Coorg & Kannur, South: Kozhikode & Malappuram, West: Kozhikode & Kannur.
Taluks in Wayanad
Vythiri, Sultan Bathery and Mananthavady.
History
Comprising an area of 2126 sq km, Wayanad has a powerful history. Historians are of the view that organized human life existed in these parts, at least ten centuries before the Christ. Countless evidences about New Stone Age civilization can be seen on the hills of Wayanad. The two caves of Ampukuthimala located between Sulthan Bathery and Ambalavayal, with pictures painted on their walls and pictorial writings, speak volumes of the bygone era and civilization.
In the ancient times this land was ruled by the Rajas of the Veda tribe. In later times, Wayanad came under the rule of Pazhassi Rajahs of Kottayam royal dynasty. When Hyder Ali became the ruler of Mysore, he invaded Wayanad and brought it under his way. In the days of Tipu, Wayanad was restored to the Kottayam royal dynasty. But Tipu handed entire Malabar to the British after the Sreerangapattanam truce that he made with them. This was followed by fierce encounters between the British and Kerala Varma Pazhassi Rajah of Kottayam. Even when the Rajah was driven to the wilderness of Wayanad he waged several battles with his Nair and Kurichia-Kuruma tribal soldiers against the British troops and defeated the latter several times through guerilla type encounters. The British could get only the dead body of the Rajah who killed himself somewhere in the interior forest. Thus Wayanad fell into the hands of British, and with it began a new turn in the history of this area. The Britishers opened up the Plateau for cultivation of tea and other cash crops. Roads were laid across the dangerous slopes of Wayanad from Kozhikode and Telicherry. These roads were extended to the city of Mysore and to Ooty through Gudalur. Roads facilities provided opportunities for the people of outside Wayanad to flow and settle to these jungle regions.
When the state of Kerala was formed in 1956, Wayanad was part of Kannur district. Later South Wayanad was added to Kozhikode district and then on November 1, 1980 North and South Wayanad joined together to form the present Wayanad district.
This mountain district is in many ways the most picturesque in the state, with its rolling hills covered with tropical rainforest. Wayanad also contributes richly to its fortunes, thanks to the flourishing cultivation of many spices, as well as tea, coffee and cocoa. Wayanad is situated at a height of 700 to 2100 m above sea level and is home to many species of animal and plant life. Temperatures range from 12 to 25 °C. This district also has the added advantage of linking Kerala with the golden triangle of South India : Bangalore, Mysore and Ooty.
Climate
The distance from the mean sea level and surrounding forest creates a salubrious climate. Generally the year is divided into four seasons; cold weather (December to February) hot weather (March to May) South west monsoons (June to September) and North east monsoon (October to November). During the hot weather the temperature goes up to the maximum of 35 °C and during the cold weather the temperature goes down to 10 °C. The more perceived temperature variation in habitational areas since last 5-6 years is in the range of 18-28 °C. The average rainfall is 250 cm per year.
Places To Visit
Wayanad is a homeland of various tribal communities. Distances from Kalpetta : Muthanga wildlife sanctuary (39 km), Tholpetty wildlife sanctuary (59 km), Kuruva dweep (35 km), Mananthvady Pazhassi tomb (34 km), Pakshipathalam (7 km trek from Thirunelly), Thirunelly temple (63 km), Edakal caves (27 km), Meenmutty waterfalls (29 km), Soochipara waterfalls (22 km), Kanthanparafalls (20 km), Chembra peak (15 km), Banasura sagar dam (21 km).
Wayanad festivals : Valliyoorkavu Bhagavathi Temple near Mananthawady (Feb - March), Thirunelly Temple (August), Seeta Devi Temple (January), Pallikunnu Church (February), Nadavayal St.Thomas Church (January), Varambetta Mosque (March), Mydoni Mosque (March - April)
How to Reach
The nearest airport is at Kozhikode (105 km). Nearest rail heads are at Kannur and Kozhikode (74 km). The district has good roads (NH 212).
Where To Stay
Hotel Harithagiri, Near Civil station, Kalpetta. Ph : 04936 203145
Forest Rest House provides reasonable accommodation.
PWD Rest House, Near Civil station, Kalpetta
Guest House, Sulthan Bathery
Where To Eat
Hotel Woodlands, Near bus stand, Kalpetta