www.keralaradio.in
Tourism
>
India
>
Kerala
>
Districts
> Idukki
Idukki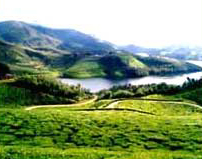 District

Idukki

Area

4476 Sq km

Population

1,129,221

Males

566682

Females

562,539

Sex ratio: Females/1000 males

999

Population Density

252

Literacy rate

88.58%;
Male 92.11%;Female 85.04%

Water bodied area

13130 ha

Forest area

260907 ha

Assembly Constituencies

1.Thodupuzha, 2.Idukki, 3.Devikulam, 4.Udumpanchola, 5.Peerumedu
Idukki, the hilly district of Kerala, gets the name from Malayalam word 'Idukku', which means a narrow gorge. The charming district teems with picturesque peaks and verdant valleys. Its 1500 sq km reserved forest area is a haven for enchanting wildlife and exotic flora. The district is also the "Power House" of the State, as about 80% of the state's power needs are fulfilled by the hydroelectric power station at Moolamattom. The district is also known for tea industry and pepper.
This district falls in the mountainous region of Kerala and is marked by hills, dense forests, valleys and a wide-ranging flora and fauna. The district is mainly watered by the river Periyar and its tributaries, Thodupuzha and Pambar.
Idukki's speciality lies in its unique geographical characteristics. Mountains with high hills and deep valleys account for a major portion of the district. The eastern side of the district is covered with forests that occupy 45% of the area in the district.
The Idukki Arch dam is the world's second and Asia's first arch dam. It has been constructed over the Kuravan and Kurathi hills. The Idukki wildlife sanctuary is located nearby. Though smaller than the Periyar wildlife Sanctuary, this sanctuary also boasts of a wide-ranging flora and fauna.
Places To Visit
How To Reach
The district lacks in transport facilities. Nearest air railhead is at Kochi (132 km).
Where To Stay & Eat
Spice Village, Thekkady. Periyar House, Thekkady
Royal Retreat, Munnar.
Hotel Poopada, Munnar.
Peermade Sabala Motel, Kuttikanam.
Government Guest House, Peerumedu.
Stonage Tourist Complex, Cheruthuruthi.
PWD Rest House and Inspection Bungalow, Idukki.