www.keralaradio.in
Tourism
>
India
>
Kerala
>
Districts
> Malappuram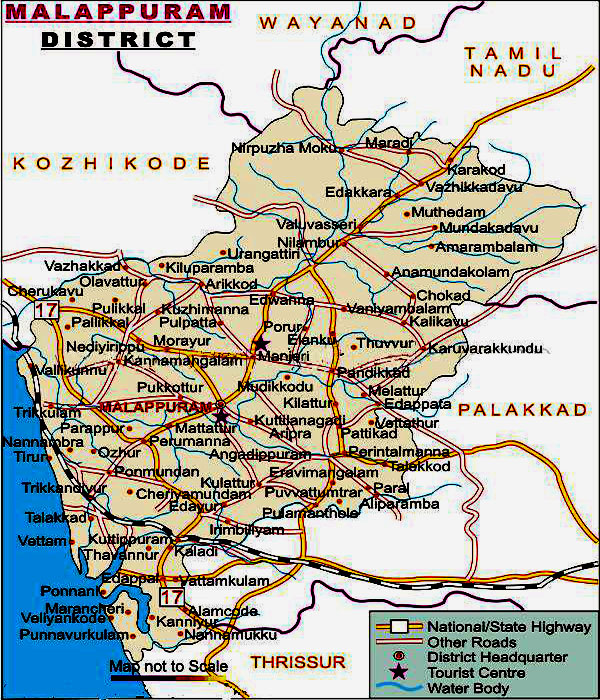 Malappuram
District Profile
District Name
Malappuram
State
Kerala
Country
India
Area
3,550 sq km
Population
36,25,471 (Approx)
Rain Fall
290 mm (annual)
Temperature
Geographical location
10o to 12o north latitude
75 to 77 east longitude
STD Code
Malappuram district comprises of undulating hills with innumerable streams flowing through them and reaching the coconut fringed sea coast. These streams at places are linked with the backwaters, facilitating network of inland waterways. The hilly tracts have dense forests and extensive teak plantations. Agriculture is the mainstay of the district economy. The main crops produced are paddy, coconut, arecanut, cashewnut, pepper, ginger, pulses, banana, tapioca and rubber. Malappuram district has also enriched the Kerala's cultural traditions immensely. It has been a centre for Hindu - Vedic learning and teaching.
Ponnani, the taluk headquarters, is an important centre for education in the philosophy of Islam. The temples and mosques of the district are known for their colourful festivals.
History
The district has a rich cultural and political heritage. Malappuram is known for national movements such as Khilafat movement and Malabar rebellion, in which the common man struggled against feudalism and colonialism alike. Though there were occasional religious overtones associated with such movements, many historians acknowledge them as part of Indian Independence struggle.
Before India's Independence in 1947, Malappuram was part of Malabar District in the Madras Presidency of British India. The area covered by the present district was administered as part of Kozhikode, Ernad, Valluvanad and Ponnani taluks. Malabar District remained part of Madras state immediately after Indian Independence. On 1 November 1956, Malabar District was merged with Travancore-Cochin to form the state of Kerala, and large-scale changes in the territorial jurisdiction of this tract took place in 1957 and 1969. On 1 January 1957, Tirur taluk was newly formed taking portions of Ernad and Ponnani taluks. Another portion of Ponnani taluk was transferred to the newly formed Chavakkad taluk, while the residuary portion was known as Ponnani taluk. Perinthalmanna was a new taluk formed out of the erstwhile Valluvanad taluk. Of these, Ernad and Tirur continued under Kozhikode District and Perinthalmanna as well as Ponnani under the Palakkad District. The new district of Malappuram was formed with four taluks, Ernad, Perinthalmanna, Tirur and Ponnani, four statutory towns, fourteen developmental blocks and 95 panchayats. Two more taluks, namely Tirurangadi and Nilambur, were formed later by bifurcating Tirur and Ernad taluks.
Boundaries
The district lies in northern Kerala, and is bounded on the north by Wayanad and Kozhikode districts, on the northeast by Tamil Nadu, on the southeast and south by Palakkad District, on the southwest by Thrissur District, on the west by the Arabian Sea, and on the northwest by Kozhikode District.
CLIMATE
The district has more or less the same climatic conditions prevalent else-where the state, viz, dry season from December to February, hot season from March to May, the South West Monsoon from October to November. The South West Monsoon is usually very heavy and nearly 75 per cent of the annual rains are received during this season. The climate is generally hot and humid; the range of temperature varying between 30 °C and 20 °C. The Average annual rainfall is 290 mm.
Rivers
Four important rivers of Kerala, flow through Malappuram district. They are, Chaliyar (Beypore river), Kadalundipuzha, Bharathapuzha and Tirurpuzha.
Chaliyar has a length of 169 km and originates from Illambalieri hills in Tamilnadu. Important tributaries of this river are Chalipuzha, Punnapuzha, Pandiyar, Karimpuzha, Cherupuzha and Vadapurampuzha. Chaliyar traverses through Nilambur, Mampad, Edavanna, Areekade, Vazhakkad and flows into the sea at Beypore in Kozhikode district.
Kadalundipuzha is formed by the confluence of two rivers, the Olipuzha and Veliyar. Olipuzha originates form Cherakomban hill and Veliyar from Erattakomban hill. They flow by the wild of Silent Valley and traverse through Ernad and Valluvanad regions, before flowing into the sea at Kadlundi Nagaram. It passes through places like Melattur, Pandikkad, Malappuram, Pankkad, Parappur, Kooriyad and Tirurangadi. Kadalundipuzha has a circuit course of 130 km.
Bharathapuzha the Second longest river in Kerala, flows by the southern border of the district and drains into the sea at Ponnani. Its main tributary, Thoothapuzha, originates form the Silent Valley, flow through Thootha, Elamkulam, Pulamanthole and joins the main river at Pallippuram. After a course in Palakkad and Thrissur districts, the Bharathapuzha again enters Malappuram district at Tiruvegapura and from Kuttippuram onwards, the river belongs entirely to Malappuram.
Tirurpuzha, 48 km long, originates from Athavanad hills in Tirur town and flows south west, parallel to the sea, until it joins the Bharathapuzha near Ponnani port. Of these rivers, only Chaliyar is perennial; all others get dried up in summer and hence Malappuram district is prone to draught. In Tirur and Ponnani taluks, kayals (backwaters) like Biyyamp, Veliyancode, Manur, Kodinhi etc offer fishing and navigation facilities.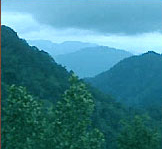 Places To Visit
How to Reach
Nearest airport and railhead from Malappuram is at Kozhikode (36 km) and is well connected by motorable roads.
Places To Stay
Leena Tourist Home, AVS Road, Kotakkal.
MKR Enterprises, AVS Road, Kotakkal.
AM Tourist Home, Kotakkal.
PWD Rest House, Valancherry.