www.keralaradio.in
Tourism
>
India
>
Kerala
>
Districts
>
Malappuram
> Tirur
Tirur
It situated 41 km south of Kozhikode or Calicut, on the Mangalore-Chennai railway line. It is a major trading centre of fish and betel leaf. Coimbatore, Manjeri and Kozhikode are the nearest cities.
Tirur is a part of the first laid railroad in Kerala, and hence historically significant. It is also home to the famous Trikkandiyur Lord Shiva temple. The main attractions of this temple are the large ponds on either side of the temple.
Tirur is also famous for the harmony among different religions. Its secular nature has attracted immigration from various areas in the south of India. In addition, the supposedly divine presence of Islamic saints has caused interest among potential residents.
Thunchan Memorial, Tirur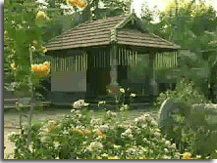 This is the birth place of Thunchath Ezhuthachan, the father of the Malayalam language. On Vijayadasami day, many come here for vidyarambham, the ceremony in which children are initiated into learning. The iron stylus with which Ezhuthachan wrote his texts on palm leaves and the ancient kanjira tree under which he composed his poems are treasured exhibits here.
Pachattiri
Pachattiri is a beautiful village near Tirur. It lies on the banks of the Tirur river. Pachattiri is a place of natural beauty and calm. Idiyattu temple, one of the few temples dedicated to Lord Krishna is located here. There is also a Shiva temple, called the Pachattiri Shiva temple. Masjidul Huda, famous for their service not only to the Muslim community but for the entire populace of the village, by serving through interest free financial services and relief works, is near to this temple. The people of this village are very friendly and harmonious, and therefore, communal amity always pervades here. They work hand in hand for the uplift of the down trodden and destitute through the organisations like Marwa and Prathivasi Sohrutha Vedi.
Puthiyangadi
Puthiyangadi is a small town near Tirur and is considered sacred by Muslims. The Pudiyangadi mosque is very famous and annually, in the month of January, the 'Pudiyangadi Nercha' festival is held at this mosque. Several elephants line up in the famous procession from Tirur to Pudiyangadi, during the festival. This festival has been discontinued for the past few years owing to difference of opinion among the families responsible for the conduct of the festival.
How to Reach
Air : Karipur International Airport, Kozhikode about 36 km from Malappuram.
Rail : Tirur,about 8 km