www.keralaradio.in
Tourism
>
India
>
Kerala
>
Districts
>
Malappuram
> Perinthalmanna
Perinthalmanna
Perinthalmanna is a city and a municipality in Malappuram district in the Indian state of Kerala. It is located near to Manjeri town. It was the erstwhile capital city of Valluvanad, an erstwhile princely state of Kerala. Perinthalmanna is a town with strong historical and cultural heritage, and for last several centuries, has remained a center of trading and commercial activity for several villages around it, including its hinterland. The town became a municipality on 10 February 1990.
Perinthalmanna is known as city of hospitals. It has 4 super speciality hospitals including a Medical college and a number of small and mid sized hospitals and clinics. As a result a good part of the population consists of migrant people from out of the town in medicine-related fields.
The poet Poonthanam, author of Njanappana and his house known as 'Poonthanam illam' is very near to Perinthalmanna, and Elamkulam, the birth place of E.M.S. Namboodiripad is also close to Perinthalmanna.
Tourist Attractions
Kulirmala
This hill which lies close to Perinthalmanna town in the highest point from where we can get a glimpse of the whole town and the neighboring places. It has a verdant landscape with water springs. The foots prints of 'Hanuman' present on this hill is very famous. We can hear the similar sounds of water flowing from the hole on top of the hill.
Olingara
Situated near to PTM Govt. College it is one of the highest regions which blessed with water springs which has never dried up even in summer.
Pathaikkara Mana
Historically relevant 'Illams' and 'Manas' which followed the ancient rituals is situated here. Adjacent to the 'Mana' there are two big wells with two big lids carved out of rocks so as to cover the wells. Adjacent to this 'Mana' there is another famous and historical relevant place named 'Raman Kuzhi'. A tiger den is also present in this place.
Eravimangalam
Mundekkat Mana and Paloli Mana which depicts the past glories is situated here. Eravimangalam public reading room which has special significance historically is also present here.
Kodikuthimala
A scenic hilltop near Perinthalmanna town named after the flag hoisting during the survey conducted by British. Its panoramic view attracts tourists all over Kerala. From here we can see several mountains and rivers surrounding Perinthalmanna town. The watch tower, suicide point and waterfalls are famous. Kerala Tourism Development Corporation (KTDC) is now developing it further. Paloliparambu : A beautiful place in Eravimangalam. There is a famous family named Thekkinkattil. Many ancestors of this family were Freedom fighters of India.
Thali Temple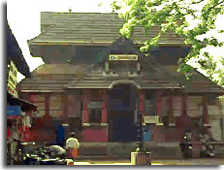 The temple is located about 3 km west of Perinthalmanna on the way to Malappuram.
Thirumandhamkunnu Temple Angadipuram
Dedicated to Goddess Durga, this is an important pilgrim centre in Malappuram. The annual Pooram festival celebrated in March/April attracts large numbers of devotees. A unique custom here is the arrival of Vellathiri in the Pooram ground to give audience to the Malayankutty, the headman of the Pana tribal community. Kalampattu is an important offering here. Mangalya pooja, Rigveda laksharchana and Chandattam are other important poojas.