www.keralaradio.in
Tourism
>
India
>
Kerala
>
Districts
>
Wayanad
> Thirunelly
Thirunelly
Thirunelly is situated 29 km north east of Mananthavady under the Brahmagiri hills in the reserve forest. The temple at Thirunelly is often called 'Thekkan Kasi'. It is believed that a bath in the holy water of 'Papanasini' will wipe off all the sins. Apart from the temple, Thirunelly is a place of scenic beauty. Pakshipathalam, an interesting trekking centre, is 7 km away from the temple.
Thirunelly temple
Thirunelly temple (32 km northeast of Mananthavady) is surrounded by Kambamala, Karimala and Varadiga. The Thirunelly temple is a marvel of temple architecture. The shrine is shielded with 30 granite columns and the ground is paved with huge square pieces of granite. The crystal clear waters of the Papanasini river running downhill add the enchantment of the place.
The eye-catching scenic beauty of this place has made it a centre of tourist attraction. The beautiful backdrop of Brahmagiri hills provides an idyllic charm to the nature around. The Vishnu temple at Thirunelly, touched and soothed by the streams of Papanasini provides eternal bliss to the visiting travellers. The Thirunelly temple, also called the 'Kasi of the south', is 32 km from Mananthavady. Believers say that the idol of Vishnu was installed here by Lord Brahma himself. Near the temple is the Papanasini river, the mystic water of this river can also wash a devotee's sins.
Pakshipathalam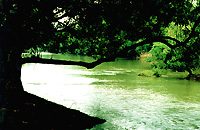 Pakshipathalam in the Brahmagiri hills at Thirunelli, is a challenging tourist spot for any adventure seeking tourist. To reach Pakshipathalam 17 km have to be covered through wild forest. The deep rock caves, formed among the thick blocks of rocks at the northern top end of Brahmagiri, are the abode of various birds and wild beasts. Special permission has to be obtained from Forest Department to go to Pakshipathalam. District Tourism Promotion Council arranges vehicle, guides, camping equipments etc. to the tourists, on hire.