www.keralaradio.in
Tourism
>
India
>
Kerala
>
Districts
>
Pathanamthitta
> Thiruvalla
Thiruvalla
Thiruvalla is a city and taluk located in Pathanamthitta district in the State of Kerala in India. The city is famous for its various religious festivals, schools etc. It is also the location of Nedumpuram palace and Paliakkara palace. Today Thiruvalla has the largest bank deposit in all of India.
Tourist Attractions
• Sree Vallabha Temple
The Flagpost of the Sree Vallabha temple carved out from a single rock with a Garuda at the top, created by the legendary "Perumthachan".
Sabrimala Temple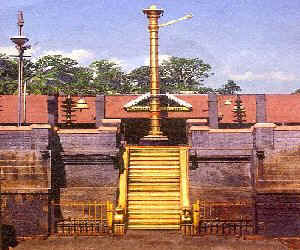 The temple is situated in the interior of the mountain ranges of the western ghats and is accessible only by foot. It is one of the most famous pilgrim centers.
Maramon Convention
A mammoth religious convention of Christians, but attended by people belonging to all communities, is held at Maramon, near Kozencherry every year on the vast sandy beds of the river Pamba.
Aranmula
Aranmula is known for the Vaasthu Vidya Gurukulam, the traditional way of constructing buildings. The location is by the side of the holy river Pampa, which hosts one more important annual event called the Maramon Convention. Aranmula is a small village, but is one of the destinations as specified the Discovery channel, one would definitely like to visit. The famous Aranmula Mirror is made here.
Aranmula kannadi or Aranmula metal mirror is a special type of mirror produced at Aranmula, a village in the state of Kerala in India. These unique metal mirrors are the result of Kerala's rich cultural and metallurgical traditions. The British museum in London has a 45 cm tall Aranmula metal mirror in its collection. The origins of the Aranmula metal mirrors are linked with the Aranmula Parthasarathy temple. Legend has it that eight families of experts in temple arts and crafts were brought by the royal chief to Aranmula from Tirunelveli district to work in the Parthasarathy temple centuries ago. Some undisclosed metals are alloyed with copper and tin to cast the mirrors. The procedure and metallurgy is now only known to a single family in Aranmula. To achieve their highly reflective surface, the finished mirrors need to be polished for one or two days.
Padayani Folk
Padayani is a spectacular folk event associated with the festivals of a few temples in Southern Kerala, especially Pandalam, Kadammanitta and Chenganoor.
River Pampa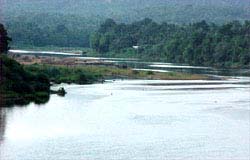 The long snaking river Pampa waters the western ghats including holy places like Sabarimala, Chakulathukavu, Maramon & Parumala church.
Kaviyoor
Thekekudi cave temple in Kaviyoor panchayat is one among the rare breed of cave temples to be found around in Kerala. It is assumed that this temple is constructed in the Pallava architectural style and was built in the 8th century.
Parumala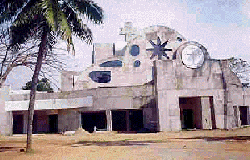 It is here that Mar Gregories Metropolitan the declared saint of Malankara Orthodox Church takes his eternal rest. The ormapperunnal celebrated on the first and second day of November every year is very famous and is the time a large number of people flock to this place for worship.
Niranam
Niranam Church is believed to be one of the seven churches founded by St.Thomas himself. It is only a few yards away from this place that the great Malayalam poet Kannassa Panicker lived and wrote his main poetic works.
The Christian community in Niranam is one of the oldest, anywhere in the world. Now almost all Christian churches and denominations as well as other religions have a presence in Niranam. All are living in harmony and take part in festivals of other religions.
Temples
Sreevallabha Temple, Thiruvalla, Ph:600191
Thiru Erankavu Temple,Kavumbhagom, Ph:603431
Sabarimala, one of the most important Hindu temples of Kerala.
Chakkulathukavu Bhagavathi Temple, Neerettupuram, Ph:0477 215035
Aranmula Parthasarathi temple
Muthoor Bhadrakali Temple, Thiruvalla, Ph: 606834
Sree Dharmashastha Temple, Meenthalakara, Thiruvalla
Mahadeva temple, Kaviyoor


Churches
St.Thomas Marthoma Church
Niranam Church
Parumala Church
St.John's Cathedral Church
St.Antony's Syrian Catholic Church, Thiruvalla, Ph:604993
Gospel for Asia, Manjadi, Thiruvalla, Ph:600674
Evangelical Church Of India, Thiruvalla, Ph:601384
St George Orthodox Church, Paliakarapally
Kattapuram Church, Kavumbhagom
St.George Simhasanapally, Thiruvalla
Parra English worship church, Thiruvalla
St. Malk Syrian Jacobite Church
India Life Church (I.L.C), Thiruvalla, Tel:604505
Prayer Center, Nedumpuram, Tel:732396


Mosques
Thiruvalla town Juma Musjid, Thiruvalla, Ph:740786
Thiruvalla Muslim Association, Juma Masjid, Muthoor, Ph:631786
Makdum Pally Juma Ath, Thukalassery, Ph:700592
How To Reach
The nearest port is Alapuzha
Nearest airport is Kochi
Nearest train station is Thiruvalla.