www.keralaradio.in
Tourism
>
India
>
Kerala
>
Districts
>
Ernakulam
> Mattancherry
Mattancherry
Mattancherry is the western part of Kochi corporarion in Ernakulam district. Its is about 10 km from Ernakulam town. There are frequent bus and boat services to Mattancherry from Ernakulam town. The boats start from Main Boat Jetty near Subash Park at Ernakulam.
Mattancherry Palace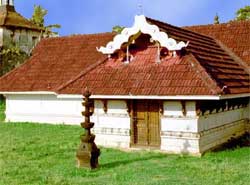 Built in 1557 by the Portuguese, Mattancherry Palace or Dutch Palace is one of the finest tourist attractions in Kerala. Located in a sleepy Mattancherry village of Kerala, this palace is brimmed with medieval charm and elegance. Travel to Mattancherry palace in Kerala and explore the historical and cultural heritage of the region.
The history of the Dutch Palace/Mattancherry palace dates back to the 16th century. It was presented to Raja Veera Kerala Varma of Kochi. After 1663, this palace was recognized with its present name i.e. Dutch palace. The erstwhile seat of the Royal House, Mattancherry palace was also used to hold investiture of the Maharaja. For those who are history buffs, Mattancherry palace tour in Kerala is an ideal way get the first-hand knowledge about the architecture and history of the region.
This two tiered quadrangular structure features opulent halls and a central courtyard. The Bhagavathi temple in the courtyard is a fine example of typical architecture of Kerala mansion. Two temples devoted to Lord Siva and Lord Krishna are located on either side of the Mattancherry palace. The upper storey of the palace features bed chamber, assembly hall, dinning hall and coronation hall. On your Mattancherry Palace tours, see exquisite murals or wall paintings. The ceilings of the assembly hall are highly embellished. Have a glimpse at the murals depicting the scenes from the puranas like the Ramayana and the Mahabharata. The palace also houses an extraordinary collection of weapons, antiques and furniture.
Tourists keen to get drench in artistic and historical abundance can comfortably travel to Mattancherry palace in Kerala, as there are regular bus and boat services to this royal palace. Tourists can start their boat journey to this palace from Main Boat Jetty near Subash Park (Ernakulam town). The nearest railway station is 10 km away at Ernakulam. Cochin International Airport is the nearest airport, 20 km away from Ernakulam town.