Tourism
>
India
>
Kerala
>
Festivals
> Dance Festivals
Dance Festivals in Kerala
Nishagandhi Dance Festival
The Tourism Development Corporation organises the dance festival. Leading artists of Bharatanatyam, Mohiniyattam, Kathak, Odissi, modern ballet and other folk form will perform at the open-air theatre of Nishagandhi in the Kanakakunnu Palace compound at Thiruvananthapuram. Admission is free and the festival usually is accompanied with music.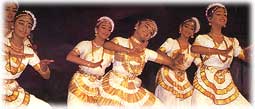 Soorya Dance Festival
This classical dance festival is conducted for ten days every year from 1st October in Thiruvananthapuram. Renowned dancers from all over India participate in this festival. Kathak, Odissi, Manipuri, Bharatanatyam, Kathakali & Mohiniyattam are perfomed at this festival.