Tourism
>
India
>
Kerala
>
Festivals
>
Boat Races
> Nehru Trophy Boat Race
Nehru Trophy Boat Race
Location : Alappuzha, Kerala
To Commemmorate : The Visit Of Jawahar Lal Nehru To This Place
Centre of Activity : Punnamada Backwaters
Held In : 2nd Saturday Of August, Every Year
This famous regatta takes place on the second Saturday of August each year. Scores of long, low-slung dugouts with highly decorated sterns and crewed by up to 100 rowers shaded by gleaming silk umbrellas compete for the cup, watched from the banks by thousands of spectators. The annual event celebrates the seafaring and martial traditions of ancient Kerala.
Nehru Trophy Boat Race, the annual water carnival at Punnamada Lake in Alappuzha is considered as the biggest snake boat race in the world. The colourful boat pageantry, which precedes the boat race, is a marvelous treat to the onlookers. The snake boats with 100 to 120 oarsmen plough the waters to the tune of the legendary songs. Jawaharlal Nehru who was enthralled by the charm and gaiety of the water carnival instituted the Nehru Trophy. This boat race attracts a large number of tourists.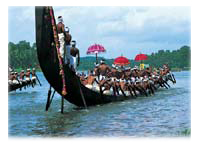 Nehru Trophy Boat Race is the most famous of the boat races of Kerala. This annual regatta is held on the Punnamada Backwaters of Alappuzha district on the second Saturday of August.
The event is a commemoration of the visit to this place by the late Prime Minister of India, Jawaharlal Nehru, in 1952.
The spectacular races features magnificent snake boats or 'Chundans'. The boisterous and rhythmic boat songs or Vanchipattu work the spectators to a state of frenzy.