Tourism
>
India
>
Kerala
>
Hill Stations
Munnar Hills
The nature-lover's paradise. Munnar is a "hill station" frequented by the British in colonial times. Because of its altitude (5000 ft./1520 m.) it offers cool respite from the sweltering lowlands. May is a particularly beautiful time there. The name "Munnar", meaning three rivers, refers to its location at the confluence of three rivers. The town is situated among endless expanses of tea plantations. It is one of the most beautiful locations in India, and offers a more tranquil view of the country.
Panoramic views of low-flying clouds and mist filled valleys make it a pretty little heaven with a cool bracing climate. It was opened up out of virgin forests a century ago by pioneering planters.
The Kundale Tea Plantation - An area surrounding a lovely lake that offers some of the most stunning views of the region. It offers the best opportunity you are ever likely to have to see the tea plantations, to watch tea being picked, to learn how tea is processed, to smell the sweet scent of tea wafting through the air and to buy the tea directly from the gardens.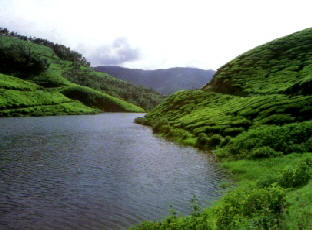 Accessing Munnar:
By road: The route from Kochi is via Perumbavur, Kothamangalam and Adimaly. Malampuzha: 230 km, Kodaikkanal: 195 km, Kumarakom: 160 km, Top station: 34 km, Anamudi: 20 km.
Nearest railway station: Ernakulam, 130 km away.
Nearest airport: Cochin international airport, 130 km away and in neighboring Tamil Nadu, Madurai airport, 142 km away.