www.keralaradio.in
Tourism
>
India
>
Kerala
>
Districts
>
Alappuzha
> Chengannur
CHENGANNUR
Panchayats in Chengannur Taluk Mulakuzha, Venmoney, Cheriyanad, Ala, Puliyoor, Bhudhanoor, Pandanad, Thiruvanvadoor, Mannar, Chengannur ( Municipality ).
CHENGANNUR BLOCK
Ala Pennukkara P.O, Alappuzha 689506 Phone - 91-479-2369465
Ala, Ummathil, Poomala , Malamodi, Valapuzha, Kodukulanji, Kochutharappady, Chammathu, Pennukkara, Neduvaram Kodu
.
Venmony
Venmony P.O, Alappuzha 686509 Phone - 91-479-2352237
Venmony Thazham, Kodukulanjikarode, Parachantha, Changamala, Illihtemepuram , Punthalathazham, Poyka, Kakkada, Venmony Eram, Pulakkadavu, Venmony Padinjattam Muri, Varampoor
.
Cheriyanad
Cheriyand P.O, Alappuzha 689511 Phone - 91-479-2360149
Edavankadu, Thuruthimel, Ariyunnisserry, Cheriyanad, Mampra, Cherumikkadu, Cheruvaloor, Kollakadavu, Kunradipallisserry, Kadayikkadu, Edamuri, Mandapriyaram
.
Mulakuzha
Mulakuzha P.O, Alapppuzha 689505 Phone - 91-479-2369251
Nikarumpuram. Piralasserry, Mulakkuzha, Pattangadu, Kudackamargam, Mannarakkodu, Karakkadu, Karimpraampoyka, Kozhuvalloor, Thazhambhagam, Arreekkara, Valiyaparambu, Peringala, Kannuvelikkavu.
Thiruvanvandoor
Thiruvanvandoor P.O, Alappuzha 689109 Phone - 91-479-2427897
Irammallikkara, Thriruvanvandoor, Thannadu, Koladthusserry, Mazhukeerkeezhu, Mazhukeer, Mazhukeermel, Kallisserry, Umayattumkara, Vanavathukkara.
Mannar
Mannar P.O, Alappuzha 689622 Phone - 91-479-2312238
Paavukkara A, Paavukkara B, Paavukkara C, Mannar Town, Kurattikkadu A, Panchayat Office, Kurattikkadu B, Switch Gear Division, Kuttamperoor A, Kuttamperoor B, Kulanjikarana, Kuttamperoor C, Homeo Hospital, Town South, Elamthoor Vishavarserrikkara.
Pandanad
Pandanad P.O, Alappuzha 689506 Phone 479-2452287
Pramattakkara, Pandanad Kottaya, Prayar, Muthavazhy, Vanmazhy East, Vanmazhy West, Mithramadam, Keezhvanmazhy, Pandanad East, Pandanad West.
Puliyoor
Puliyoor P.O, Alappuzha 689510 Phone 479-2462682
Palachuvadu, Pazhayattil, Madathumpady, Nootavanpara, Thakalamattam, Puliyoor Central, Kulickapalam, Thonackadu, Ilanjimmel, Puliyoor West.
Budhanoor
Ennaikkad P.O, Alappuzha 689624 Phone 479-2466383
Chengannur ( Municipality ) Chengannur P.O, Alappuzha
Chengannur Town, Kallissery, Angadical, Puthencavu, Angadical South.
Profile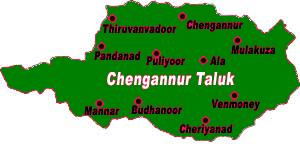 District :Alappuzha

Area :132.70 km2

Population

Total------1,96,547

Men--------94,746

Women------1,01,801
Date of formation :August 17, 1957
Parliament Constituency :Mavelikkara
Location
Chengannur, a beautiful town in 'God's own country', Kerala. Chenganoor, situates at the extreme east part of Alappuzha district. 117 km north of state capital Thiruvananthapuram on the Main Central Road (MC Road).
Name
Nammalwar of the 1st millennium CE, describes Chenkunrur or Chenganoor as a town where the smoke, emanating from the Vedic ritual yagna, fills the sky and as a place surrounded by rich lush vegetation (of bananas and coconuts). The name is derived from Chennu Ninne Uru which means 'the place where they stopped'. It was named after a temple of Shiva and Parvati was established here after a sage made them come and stop there.
Myth
Chengannur is famous for its Shiva temple Chengannur Mahadeva Kshetram, where thousands have darshan of aaratu festival goddess Parvathy. Here goddess Parvathy's abdomen part fell when lord Mahavishnu used his sudharshana chakram to cut her body when lord Shiva was dancing in anger with her body - after she fell in homa gundam of daksha yagnam. The devotees to the famous Temple in Sabarimala where Lord Ayyappa is believed to be present will do darshan in the Shiva temple in Chengannur as Shiva is supposed to be the father of Ayyappa. (Lord Ayyappa was brought up as an orphan in the Panthalam Palace).