www.keralaradio.in
Tourism
>
India
>
Kerala
>
Districts
>
Alappuzha
>Kuttanad
KUTTANAD
Profile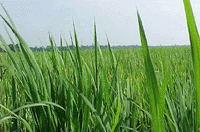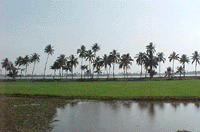 Kuttanadu in Kerala, India is the lowest region of India, with 500 square kilometres of the region below sea level. Its elevation ranges from 0.6 m above to 2.2 metres below sea level. Most of the area is covered with water throughout the year. Kuttanadu is one of the few places in the world where farming is carried out below sea level. The region has a population of 1.8 million and comes under the Alappuzha district.
Kuttanad, a stretch of 75 km stands sandwiched between the vast serene sea & the magnificent hills. The bewildering labyrinth of shimmering waterways composed of lakes, canals, rivers & rivulets, is lined with dense tropical greenery and preserves rural Kerala life styles that are completely removed from the buzz of city life . The views change from narrow canals and dense vegetation to open vistas and dazzling green paddy fields.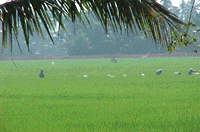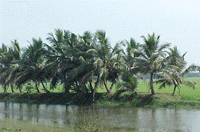 The sweeping Network of canals honey-combing the town of Alappuzha has earned the sobriquet, "THE VENICE OF THE EAST". Do not miss out on a ride into Kuttanad through shimmering, green paddy fields and tail-waging, head-bobbing groups of ducks. The Coir workers too present an interesting sight. Alleppey becomes the cynosure of all eyes in August-September, every year when the water regatta unfolds itself.
Kuttanad Backwaters
Kuttanad is a favorite Kerala backwater destination on Kerala backwater tours. Kuttanad is also known as the "Rice Bowl of Kerala" and is characterized by its green landscape. Travel to Kuttanad and see the scenic beauty of this Kerala backwater destination on Kerala tours with Kerala Backwater.
Kuttanad is crisscrossed with waterways that run alongside fields of cassava, banana and yam, as well as emerald green fields of paddy. A unique feature of Kuttanad is that many of these fields are below sea level. The fields are surrounded by earthen bunds and crops are grown on the low-lying ground. This is similar to the polder regions of the Netherlands where land is reclaimed from the sea and crops are grown. You can see the amazing below-sea level fields of Kuttanad, while on Kerala tours with Kerala Backwater.
Kuttanad is a backwater paradise and an ideal destination for a backwater cruise in Kerala. Its innumerable streams, channels, waterways and lakes make it possible to drift along in a houseboat and enjoy the scenic view of the Kerala countryside. Have a memorable holiday while on Kerala tours in Kuttanad with Kerala Backwater.